Mid-size Company Car of the Year 2022: Nissan Ariya
The Nissan Ariya is the 2022 Auto Express Mid-size Company Car of the Year, with the BMW i4 and Mercedes C 300 e commended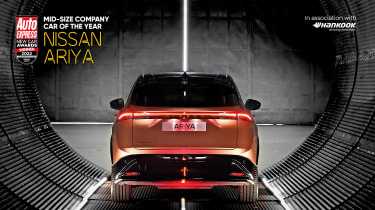 1/7
In association with

It's been quite a while since Nissan has had a contender in this hotly contested category, but the good news is that the brand's smart Ariya SUV has been worth the wait. Featuring a compelling blend of head-turning looks, premium appeal and composed driving dynamics, the all-electric Japanese machine is a force to be reckoned with. Factor in rock-bottom company-car tax rates and the possibility of travelling more than 300 miles on a charge, and the newcomer goes straight to the top of the class.
The Ariya's distinctive coupé-inspired design means this is an SUV that will cut a dash in the company car park, offering style without compromising practicality, while the Nissan is equally eye-catching inside and boasts a fit and finish that we've not previously seen from the mainstream Japanese brand; it's smart.
Better still, there's a pair of crisp 12.3-inch screens, plus Nissan's voice-controlled digital assistant. There's a generous amount of space too, with the car's CMF-EV underpinnings offering plenty of legroom and a respectable level of headroom in the rear, despite the Ariya's flowing roofline.
Meanwhile, the Nissan feels as sophisticated to drive as it looks. There's a choice of single or twin-motor E-4ORCE set-ups; the latter is coming soon and will serve up a stonking 389bhp for 0-62mph in just 5.1 seconds. Yet all versions deliver more performance than an SUV owner should need and near-silent acceleration, while the quick steering, strong grip and good body control mean the Ariya feels secure and predictable. However, it's the way the Nissan balances this with a forgiving ride and hushed refinement that really appeals.
Also helping to keep you calm is the availability of a 91kWh battery that delivers up to 310 miles of range, according to Nissan's claims, while 130kW rapid charging means you'll be able to add 186 miles of range in just half an hour. Plus there's the brand's extensive array of active driver safety aids that ensure you'll always make your appointments unscathed.
When it comes to the big boardroom decisions, choosing this Nissan could be the easiest one you'll make.
Our choice
Nissan Ariya 63kWh Advance
For most drivers, it'll be hard to look past the entry-level Ariya Advance, because it's still packed with gizmos such as a 12.3-inch touchscreen and 12.3-inch digital instrument panel. The optional panoramic roof adds light to the spacious cabin; in this spec, a three-year PCP agreement with a £5,808 up-front payment brings the total to £559 per month.
Commended
While it's based on an existing ICE car, BMW has done a great job of turning the i4 into a brilliant EV. Not only does it look great, the car's slick pair of curved TFT screens give the cabin a hi-tech feel. The high-performance M50 is thrilling to drive, but the entry-level eDrive40 is quick and composed enough, and boasts a claimed 286-mile range.
Mercedes C 300 e
It looks like a facelift, but the C-Class was all new in 2021, and an even classier, tech-laden interior helps to boost its showroom appeal. But for business users it's the plug-in hybrid that's the star of the show. With a 25.4kWh battery, it claims a remarkable 68 miles of EV running, helping to lower tax bills and stress levels when driving.
The 2022 New Car Awards are brought to you in association with Hankook tyres
New Car Awards 2022: the winners
Special edition of Auto Express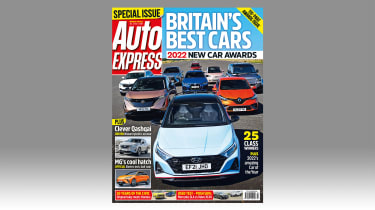 For the full experience, make sure you pick up a copy of our special 2022 New Car Awards collectors' edition of the Auto Express magazine, which is available in shops now.
You can buy individual issues of Auto Express or subscribe for even bigger discounts on the print magazine cover price. You can currently subscribe or download individual issues of our digital edition direct to your desktop, phone or tablet as well.
Stay right up to date with the latest from the world of cars in 2022 and beyond, follow Auto Express on social media...