Performance Car of the Year 2022: Porsche 718 Cayman GT4 RS
The Porsche 718 Cayman GT4 RS is the 2022 Auto Express Performance Car of the Year, with the Ferrari 296 GTB and Toyota GR Yaris commended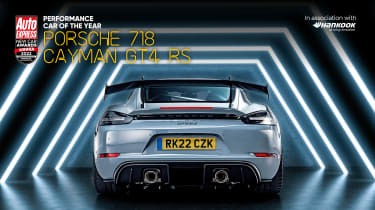 1/7
In association with

How do you make the best even better? If you're Porsche, you transform the already-incredible Cayman GT4 into the jaw-dropping GT4 RS.
The work of the brand's motorsport department, this mid-engined missile crams all of the firm's race-bred, high-performance know-how into a sensational sports car that's as happy attacking the track as it is blasting down a B-road. Using some of the greatest hits from the brand's ultra-focused back catalogue, this could be the greatest driver's car Porsche has ever built.
Sitting behind the driver is a 493bhp version of the 911 GT3's 4.0-litre flat-six engine. As you'd expect, performance is breathtaking, with a 0-62mph time of just 3.4 seconds, helped by rapid-fire shifts from the standard PDK gearbox. Yet it's the razor-sharp throttle response and spine-tingling bark of that naturally aspirated engine that will really make you grin wildly.
This stunning straight-line pace is matched by the car's agile and acrobatic handling. All of the major controls are dripping with feedback, and on track the car feels as grippy, planted and poised as a bona-fide racer, yet you can endlessly adjust your line with steering and throttle.
Despite its race-bred manners, on the road you'll find the GT4 RS is as easy to live with as the standard Cayman. With the adaptive dampers in their softest setting, it rides remarkably well, while the cabin is roomy and the dual-clutch gearbox shuffles ratios swiftly and smoothly. Better still, the incredible sense of connection between the GT4 RS and driver means you can revel in the car's astounding driving dynamics at any speed.
Our choice
Porsche 718 Cayman GT4 RS (£112,000)
It's possible to add to the £112,000 asking price through the extensive options list. Chief among the upgrades is the Weissach Pack; this adds a bare carbon-fibre bonnet, air intakes and a titanium roll cage for £11,186, while ultra-lightweight forged magnesium wheels add another £10,521.
Commended
Ferrari 296 GTB
The sensational 819bhp plug-in 296 GTB has banished any fears that electrification means fewer thrills. Performance is great, yet you can travel 15 miles in EV mode.
It's only the brilliance of our 2022 winner that stops the GR Yaris from taking back-to-back victories. The Toyota looks the part, while a fiery 257bhp 1.6-litre turbo motor, 4WD chassis, snappy manual gearbox and compact size ensure few cars are as fast and fun.
The 2022 New Car Awards are brought to you in association with Hankook tyres
New Car Awards 2022: the winners
Special edition of Auto Express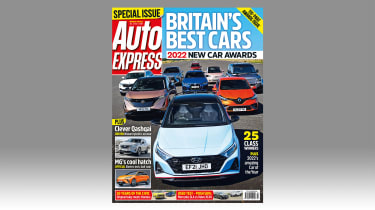 For the full experience, make sure you pick up a copy of our special 2022 New Car Awards collectors' edition of the Auto Express magazine, which is available in shops now.
You can buy individual issues of Auto Express or subscribe for even bigger discounts on the print magazine cover price. You can currently subscribe or download individual issues of our digital edition direct to your desktop, phone or tablet as well.
Partnership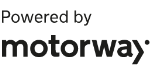 Need to sell your car?
Find your best offer from over 5,000+ dealers. It's that easy.
Stay right up to date with the latest from the world of cars in 2022 and beyond, follow Auto Express on social media...