Technology Award 2022: Mercedes Vision EQXX
The Mercedes Vision EQXX is the 2022 Auto Express Technology Award winner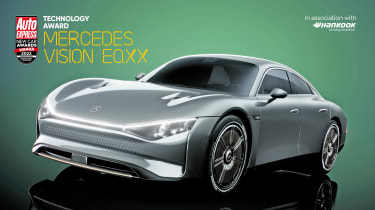 1/7
In association with

When it comes to developing cutting-edge technology that will go on to cascade into production models, Mercedes is in a class of one. And in a time where the focus is firmly on range and efficiency as we move into the EV era, the Mercedes Vision EQXX provides a tantalising glimpse of the near future.
It's the most efficient Mercedes ever, and recently travelled 747 miles from Stuttgart, Germany, to Silverstone in the UK on a single charge. It wasn't achieved through hypermiling, either; the EQXX reached an EV-unfriendly 87mph on the autobahn.
The 100kWh battery is of a relatively conventional capacity, but is 50 per cent smaller and 30 per cent lighter than the one fitted to Merc's current flagship, the EQS. Many parts adopt a 'bionic engineering' philosophy, too, taking inspiration from natural forms to cut weight but maintain strength, contributing to the EQXX's 1,750kg kerbweight. This back-to-basics thinking applies to the car's sleek styling, too, which records a minuscule drag coefficient of 0.17Cd.
Inside, there's a 47.5-inch 8k screen, which is powered by a 'neuromorphic' processor that makes its calculations in neural spikes, something which bosses say helps to further improve efficiency.
The entire car was developed in just 18 months, but parts such as the battery, motor and some of the 'bionic' components will soon be seen on production models.
The 2022 New Car Awards are brought to you in association with Hankook tyres
New Car Awards 2022: the winners
Special edition of Auto Express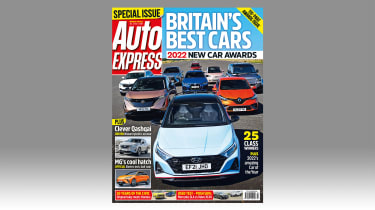 For the full experience, make sure you pick up a copy of our special 2022 New Car Awards collectors' edition of the Auto Express magazine, which is available in shops now.
You can buy individual issues of Auto Express or subscribe for even bigger discounts on the print magazine cover price. You can currently subscribe or download individual issues of our digital edition direct to your desktop, phone or tablet as well.
Stay right up to date with the latest from the world of cars in 2022 and beyond, follow Auto Express on social media...