Porsche 911 Carrera S vs Jaguar F-Type R
The supercharged punch of the Jaguar F-Type R Coupe faces a fresh onslaught from the potent new turbocharged Porsche 911 Carrera S
The Porsche 911 and Jaguar F-Type went head-to-head last year. Back then, the four-wheel-drive 911 Carrera 4 GTS took victory over the F-Type R Coupe AWD. And now that there's a new 911 Carrera S on sale, the F-Type has an even bigger fight on its hands.
Here we stick with the more traditional two-wheel-drive recipe – but there's nothing traditional about the new 991.2-generation Carrera S, because this facelifted model is now powered by a turbocharged engine.
• Best sports cars on the market
Porsche purists may hate the fact the lower rungs of the 911 ladder are no longer naturally aspirated, but it means the car is faster, more efficient and flexible. However, does the turbo engine kill some of the Porsche's character?
The thrilling F-Type R Coupe certainly isn't short on personality and it also proves that forced induction needn't necessarily be a bad thing, with its supercharged V8 engine delivering a huge power output combined with a stirring soundtrack.
There's just £408 between the two cars' list prices, and they actually offer similar performance – so there's not much to split these two stunning coupes on paper.
To find out which is the better all-round sports car, we put them head to head on the road and track.
Head-to-head
Turbocharger vs supercharger
Both of our test cars are fitted with forced-induction systems to improve the power, performance and efficiency of their engines.
In the Porsche, a turbocharger in each bank of the exhaust spins up by using the high-pressure gases escaping the engine. These turbos are connected to a pair of compressors in the car's inlet that squeeze even more air into the cylinders.
With more air, you can burn more fuel, which gives a bigger bang and more power. But more importantly, it means you get more for less – hence the more efficient downsized 3.0-litre engine in the new 911.
The Jaguar, meanwhile, uses a supercharger to force extra air into its already colossal V8. This is connected to the engine via a belt, so the moment you touch the throttle, there's instant power on tap. One downside of turbos is that they can take time to respond, which is called turbo lag. However, Porsche has worked wonders here, and response is very good.
Turbochargers tend to produce a whoosh and whistle, while a supercharger emits a high-pitched whine. Each method gives the different engines a unique character.
Verdict
First place: Porsche 911 Carrera S
If you were worried that the new turbo 911 has lost its way, don't be. This is a brilliant sports car that's faster, more efficient, more usable and better equipped than before. The extra comfort and breadth of ability make it close to being to the perfect sports coupe – and it has a practicality advantage over the Jag. It's also cheaper to buy and own, and more immersive to drive.
Second place: Jaguar F-Type R
The F-Type is still a sublime car. Arresting design, astonishing performance and that V8 bellow make it a British muscle car that's bursting with character. But it doesn't blend its performance with as much usability as the Porsche. It'll be more expensive to run and won't hold its value as well either, while interior quality is lacking in some areas compared to the 911's.
Other options for similar money...
New: BMW M6
Price: £93,150Engine: 4.4-litre V8, 552bhp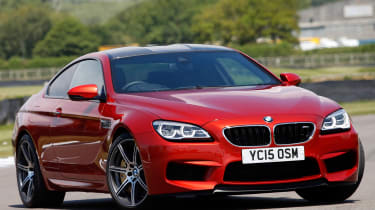 The M6 is more expensive than the 911 and F-Type, but it's also more powerful. The engine is mighty, but the chassis isn't as capable. However, back seats give the BMW an edge and make it a great rear-drive performance four-seater.
Used: Ferrari F430
Price: £84,950Engine: 4.3-litre V8, 490bhp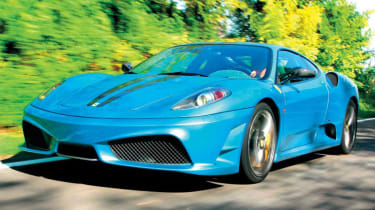 You could try something exotic, as a similar budget will get you the looks and thrills of a Ferrari F430. Used Ferraris hold their value, and will likely have been lovingly maintained.
Figures
| | | |
| --- | --- | --- |
| | Porsche 911 Carrera S | Jaguar F-Type R Coupe |
| On-the-road price/total as tested | £86,402/£98,834 | £86,810/£93,335 |
| Residual value (after 3yrs/30,000) | £45,447/52.6% | £37,337/43.0% |
| Depreciation | £40,955 | £49,473 |
| Annual tax liability std/higher rate | £5,838/£11,677 | £6,355/£12,711 |
| Annual fuel cost (12k/20k miles) | £2,058/£3,429 | £2,428/£4,047 |
| Ins. group/quote/road tax band/cost | 48/£1,152/J/£265 | 50/£1,324/L/£490 |
| Cost of 1st/2nd/3rd service | £480/£610/£480^^ | £995 (3yrs) |
| | | |
| Length/wheelbase | 4,499/2,450mm | 4,470/2,622mm |
| Height/width | 1,296/1,808mm | 1,314/1,923mm |
| Engine | Flat-six/2,981cc | V8/5,000cc |
| Peak power | 414/6,500 bhp/rpm | 542/6,500 bhp/rpm |
| Peak torque | 500/1,700 Nm/rpm | 680/3,500 Nm/rpm |
| Transmission | 7-spd man/rwd | 8-spd auto/rwd |
| Fuel tank capacity/spare wheel | 64 litres/repair kit | 70 litres/repair kit |
| Boot capacity (seats up/down) | 405 litres | 310/407 litres |
| Kerbweight/payload/towing weight | 1,440/460kg/N/A | 1,650/400kg/N/A |
| Turning circle/drag coefficient | 10.7 metres/0.30Cd | 10.7 metres/0.30Cd |
| Basic warranty (miles)/recovery | 3yrs (unltd)/3yrs | 3yrs (unltd)/3yrs |
| Service intervals/UK dealers | 20,000 miles (2 yrs)/36 | 16,000 miles (1yr)/97 |
| Driver Power manufacturer/dealer pos. | 6th/8th | 2nd/3rd |
| Euro NCAP: Adult/child/ped./stars | N/A | N/A |
| | | |
| 0-60/30-70mph | 4.5**/3.6 secs | 3.9/3.0 secs |
| 30-50mph in 3rd/4th | 2.0/2.7 secs | 2.3/3.0 secs |
| 50-70mph in 5th/6th/7th | 3.4/4.2/6.1 secs | 3.2/5.4/6.9 secs |
| Top speed/rpm at 70mph | 191mph/1,800rpm | 186mph/1,500rpm |
| Braking 70-0/60-0/30-0mph | 42.4/29.9/8.0m | 49.1/35.3/9.3m |
| Noise levels outside/idle/30/70mph | 76/58/69/77dB | 68/53/64/73dB |
| Auto Express econ (mpg/mpl)/range | 28.2/6.2/397 miles | 23.9/5.3/368 miles |
| Govt urban/extra-urban/combined | 23.2/42.8/32.5mpg | 18.5/35.3/26.4mpg |
| Govt urban/extra-urban/combined | 5.1/9.4/7.2mpl | 4.1/7.8/5.8mpl |
| Actual/claimed CO2/tax bracket | 231/199g/km/34% | 273/255g/km/37% |
| | | |
| Airbags/Isofix/parking sensors/camera | Six/£122/£639*/£1,085^ | Four/yes/yes/£255 |
| Automatic box/stability/cruise control | £2,388/yes/£219 | Yes/yes/yes |
| Climate control/leather/heated seats | Yes/yes/£320 | Yes/yes/£350 |
| Metallic paint/xenon lights/keyless go | £801/yes/£744 | £700/yes/yes |
| Sat-nav/USB/DAB radio/Bluetooth | Yes/yes/yes/yes | Yes/yes/yes/yes |