Porsche Panamera S E-Hybrid
We drive the revamped Porsche Panamera with plug-in hybrid power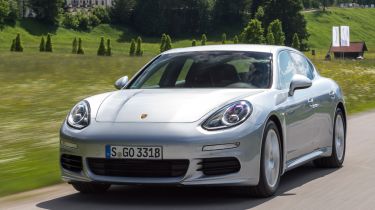 Porsche's engineering might has produced a stunningly effective plug-in hybrid. It's massively efficient yet still with true Porsche DNA – it's a thrill to drive quickly. Purists will complain about the car's bulk and weight, but as luxury GTs go, the Panamera S E-Hybrid is a brilliant one.
The new Porsche Panamera looks pretty much like the old car, but as with all new Porsche models these days - think new 911, Boxster and Cayman - it's what happens underneath that's most important.
New lights (including the option of full LEDs at the front), larger air intakes, smoother lines and a larger glass area are about the sum of the new Panamera's exterior styling changes. It's an evolutionary approach that's worked so well for Porsche in the past.
There's nothing evolutionary about what drives this Panamera, though. Sure, Porsche's had hybrids before, but this is its first plug-in hybrid, boasting 91mpg, a (London congestion charge-beating) CO2 figure of 71g/km and a 0-62mph time of 5.5 seconds – all for just under £89,000.
Put a Panamera S E-Hybrid through your company books and higher rate tax payers will pay company car tax of £148 a month – less than a BMW 320d Efficient Dynamics. You'll see your fuel bills tumble, too.
Porsche claims an all-electric range of between 11 and 22 miles, depending on how heavy your right foot is. But this is no eco special: the 94bhp electric motor (twice as powerful as the one in the old hybrid) works with a 329bhp 3.0-litre V6 petrol engine for a combined output of 410bhp.
You can choose from four driving modes: the car will default to E-Power mode using electric power only for smooth, swift, silent progress from the start – assuming the battery has enough charge (which takes four hours from a household socket). It'll whisk you silently up to 84mph before the petrol engine kicks in. At that point, or when power's low, it'll act as a normal hybrid, switching between power sources with one motor backing up the other, and the battery being charged by capturing energy as the brakes do their work.
Then there's E-Charge, that'll keep the engine turning to power the electric motor, which acts as a generator to recharge the battery. Or Sport, which uses the full force of both sources to propel this 2095kg four-seater at maximum velocity.
The car switches seamlessly between power sources with barely a shiver as the engine cuts in. You won't even notice it cutting out, which it does at every opportunity, even on the motorway.
But put your foot to the floor and you and up to three passengers will be forced back into the standard leather sports seats as the electric and petrol motors work in unison. Electric power sharpens throttle response, while the eight-speed gearbox (this is the only Panamera without a PDK double clutch box) is quick to react and shifts smoothly.
The brakes take some getting used to, though. Pedal travel is long and then they grab quickly and strongly. It's initially a little unnerving if you're driving swiftly and this is one big, heavy car to haul to a standstill.
The new Panamera's suspension has been tweaked to provide more comfort as well as impressive body control in slow or faster corners, while the steering feels a tiny bit sharper than before, too.
The cabin oozes five star quality and is generously equipped with tech such as sat-nav, digital radio, Bluetooth, parking sensors and an automatic tailgate, which lifts to reveal a golf bag-friendly boot with 335 to 1153 litres of space – slightly smaller than non-hybrid Panameras.
The dials remind you that there's hybrid power under the bonnet with numerous displays to keep you informed of which power source is being used, when you're driving efficiently and how much battery power is available. And there are splashes of green on the dials, matching the bright green brake callipers and badges outside.
This plug-in hybrid Panamera is the highlight of the new range that also includes a new twin-turbo V6 that's more powerful and more efficient than the old V8, plus a non-turbo V6, standard or turbo V8 and the entry-level diesel. Four-wheel drive is available on the two V6 models, too, while a long wheelbase version that adds 12cm of extra leg space can be had on V6 4S and Turbo versions.