Altea Freetrack 4 vs Scenic Conquest
The new SEAT Altea Freetrack and Renault Scenic Conquest both claim to take the rough with the smooth. We put them to the test!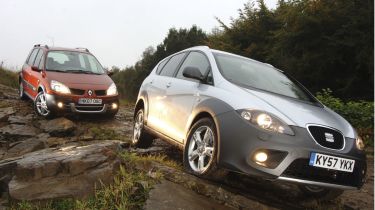 You can always rely on SEAT to do things differently. Maybe it's the sangria in Spain, because the firm has a habit of taking standard VW underpinnings and making them more charismatic and interesting.
It's produced some great-looking cars recently – most notably the Leon hatchback. But its model range consists of only six cars, four of which are built on the Golf platform. Now, for its seventh, SEAT is taking its first steps into the compact off-road sector. The Altea-based Freetrack 4 retains the SEAT look, but has been beefed up with chunky bumpers and four-wheel drive. Up against it is Renault's latest rugged Scenic. The French firm is no stranger to this niche market. Remember the RX4? It was a jacked-up version of the previous-generation MPV, with four-wheel drive, plastic body cladding and a tailgate-mounted spare wheel.
Now, a successor has been launched. The 4x4 system has gone and the looks are more subdued. But it gets a macho new name: Conquest. Will this broaden the Scenic's appeal as it tackles the SEAT?
Verdict
Does the world need a crossover MPV? The success of the Nissan Qashqai suggests buyers' tastes are changing, but these models haven't convinced us about this sector of the market.
That's not to say either is a bad car. The Altea Freetrack 4 is surprisingly capable off-road. Its Haldex four-wheel drive and greater ground clearance give it a clear advantage over the Renault. It also has a strong engine, as well as a smooth ride and capable handling on tarmac. The trouble is, the Altea was never the most flexible MPV in the first place.
The Scenic Conquest is the family friendly choice, with its more versatile cabin and wide range of clever storage solutions. Yet this Renault is more a spec choice than a specific, standalone mud-plugging model. Aside from the raised ride height, it offers little over the standard Scenic.
Both cars are compromised, then, although it's the SEAT that takes the victory, as it will appeal more to lifestyle buyers. The only question is why you would choose the Freetrack 4 when its £21,395 price tag pitches against some very capable compact SUVs.