Smart ForTwo 2014 review
Thoroughly reengineered from top to bottom, the Smart ForTwo has returned. Is it any good?
Although still flawed, the Smart Fortwo can now be considered as a credible alternative in the city car segment – providing room for two is enough. It's considerably more refined, compliant and feels like a much more mature car. It hasn't entirely shaken off its novelty value branding but thanks to a raft of much needed cosmetic and mechanical updates it's better equipped for managing buyers' everyday demands.
The smallest and most distinctive city car has returned. Now in its third-generation, the Smart ForTwo remains as compact and as opinion dividing as ever but has been thoroughly reengineered from top to bottom. There are new engines, gearboxes, suspension setups as well as sharp new suit, all aimed squarely at addressing its predecessor's shortcomings.
Few things remain unchanged, but at 2.69m long the ForTwo keeps its miniature proportions, so you can still smugly park nose first into the kerb. This time around, however, the dinky ForTwo has a slightly more muscular stance thanks to 10mm being shaved off its height and 110mm added to the width. The wheels have been pushed as far into each corner as they'll go, maximizing interior space and boosting agility.
There's also a trio of shiny new engines, all fitted over the rear axle. Two three-cylinder petrol engines – a 70bhp 1.0-litre and an 89bhp 900cc turbo – will be your only options initially, with an entry 59bhp three-cylinder set to join the range in the coming months.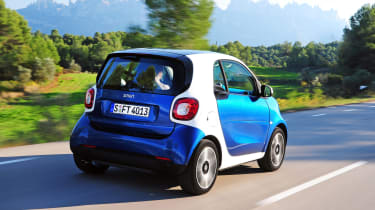 The ForTwo uses a shortened version of the new Renault Twingo's rear-engined chassis, but don't go mistaking this for a mini Porsche 911. Despite the sports car layout, it's packaging is designed to make it more practical rather than more sporty. The wider body also means there is far more space inside than its proportions would suggest – you and your passenger now sit side by side rather than fractionally offset from one another for the first time.
Like the exterior, the cabin has also been given a whole new lease of life. Top spec Proxy models like our test car come with a contrasting blue textured dash (not pictured) and centre console with matching seats as well as a panoramic roof. Sadly, all the other goodies fitted to our car such as the seven-inch infotainment system with sat nav, ambient lighting, LED headlamps, reversing camera and auto lights and wipers come part of a £1,295 Premium Plus package.
We tested the more powerful, turbocharged 89bhp 900cc model and the marked step-up in quality over the previous model is immediately obvious. Gone is the rattle and vibration from the old three-pot, replaced with a more refined but characterful off-beat thrum. As the Smart is lighter than a Twingo, economy is also fractionally better too, returning 67.3mpg and 93g/km of CO2. Having only 880kg to haul around, 0-62mph takes 10.4 seconds, which is on par with equally powered rivals.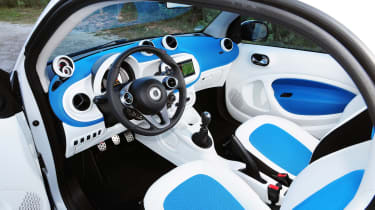 Yet, the engine is still not the most eager of performers. There's no prominent surge in power or strong in-gear pace you'd expect from a turbocharged engine. Luckily, Smart has thoroughly addressed the two biggest issues that plagued the ForTwo's predecessor: the bone-breaking ride and lethargic gearshifts. The tardy automated manual is now a distant memory - buyers can now choose between a five-speed manual or twin-clutch DCT gearbox. The manual comes as standard, while the auto is a £995 option. Both are a welcomed replacement, with the simple five-speed manual enough to transform the Smart from asthmatic to athletic on its own.
More travel in the suspension and a more forgiving setup makes the Smart easier to live with day to day, too. Whereas before a well-worn road would cause the ForTwo to scuttle and squirm about, it now covers ground with relative ease. It feels more at home charging through city streets than it ever has done before. It's so incredibly maneuverable and agile, highlighted by the incredibly tight 6.95m turning circle which is over one metre tighter than that of a London cab.
But don't ask too much of the city dweller. Covering long distances is more bearable than before but still a chore due the rather rowdy engine at higher speeds plus excessive amounts of wind noise kicked up by the slab sided body. On a practical level, the Smart also still remains rather hopeless. A 260-litre boot is big enough for the two occupants but no rival or model at this price point demands buyers make such compromises. That's why around 80 per cent of UK buyers are expected to stump up the extra £495 for a whole lot more car in the shape of the all-new ForFour.
See our list of the best city cars here...