Subaru XV vs Mitsubishi Eclipse Cross vs Skoda Karoq
Can the new Subaru XV and Mitsubishi Eclipse Cross SUVs hold back the all-conquering Skoda Karoq?
Competition between mainstream manufacturers is becoming ever tighter as more and more makers join the SUV fray. And Subaru is aiming for a slice of the action with its updated XV family 4x4.
The newcomer boasts more power and practicality than before, with improved quality and refinement to boot. These are key attributes in a market where it seems firms need a family 4x4 in their line-up if they want to genuinely vie for sales.
But the XV isn't the only new Japanese contender on the SUV block. Mitsubishi has also recently launched the Eclipse Cross, and while this car doesn't actually replace the old ASX, it makes a lot more sense for families. With a more modern design, a new petrol powertrain and plenty of practicality, the Eclipse Cross is aiming to steal some sales from big players in this sector.
However, if either model wants to succeed in this market, it will have to compete with the class-leading Skoda Karoq. We know how appealing the Czech car's blend of style, kit, fuel efficiency, performance and practicality is. Can the Subaru and Mitsubishi surpass this incredibly well-balanced SUV? 
Subaru XV 
| | |
| --- | --- |
| Model: | Subaru XV 2.0i SE Premium Lineartronic |
| Price:  | £28,510 |
| Engine:  | 2.0-litre flat-four petrol, 154bhp  |
| 0-60mph:  | 8.7 seconds |
| Test economy:  | 32.7mpg/7.2mpl  |
| CO2:  | 155g/km   |
| Annual road tax:  | £140 |
Subaru's XV has been around for six years now, but it's fair to say the 4x4 hasn't exactly been a sales success. The Japanese brand is hoping to address that with this revised version. Priced from £28,510 in top-spec SE Premium guise, can the XV see off the cheaper Mitsubishi and Skoda?
All three cars are likely to spend most of their time on the road, so comfort and refinement are arguably the most crucial factors here. And the XV shades the Eclipse Cross. Its chassis flows better, without the Mitsubishi's lumpy damping. It feels smoother over harsher bumps and more rolling surfaces.
The steering is also nicer and more direct, plus the lower XV controls its body better in bends. No crossover is all that great to drive, but the XV delivers some dynamic merits and acceptable refinement. Yet it suffers from the same problems as the CVT Eclipse if you squeeze the throttle to the stop. The revs rise sharply, as does the drone in the cabin.
But even when cruising around, the XV's CVT transmission isn't quite as good as the Mitsubishi's. It stutters more, surging slightly on a constant throttle as the box struggles to cope with your demands; it has more of the old-school 'rubber band' elastic feel. Performance in our tests was good, as the XV sprinted from 0-60mph in 8.7 seconds. The two CVT cars weren't able to record in-gear figures, but were evenly matched between 30 and 50mph and 50 and 70mph, with decent acceleration.
Off-road performance should be strong in both Japanese models, too, thanks to their four-wheel-drive systems and various modes to boost ability away from the tarmac. 
Testers' notes: "Subaru's reputation for off-road ability and its symmetrical all-wheel-drive system mean if you'll be spending much time in muddy conditions, the XV is likely to be the best choice."
Mitsubishi Eclipse Cross
| | |
| --- | --- |
| Model: | Mitsubishi Eclipse Cross 4 1.5 MIVEC Auto 4WD |
| Price:  | £27,915 |
| Engine:  | 1.5-litre 4cyl turbo petrol, 161bhp  |
| 0-60mph:  | 8.5 seconds |
| Test economy:  | 30.1mpg/6.6mpl  |
| CO2:  | 159g/km   |
| Annual road tax:  | £140 |
Mitsubishi's new mid-size family SUV looks competitive on paper, with a far more modern design and approach than the brand's ASX. At £27,915 for this petrol auto '4' trim we're testing, it's the most affordable model of the trio on test, but do you pay a penalty elsewhere?
Partnership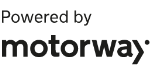 Need to sell your car?
Find your best offer from over 5,000+ dealers. It's that easy.
Family SUVs should balance usability with comfort and a decent degree of performance. While the Mitsubishi offers enough of the latter, sprinting from 0-60mph at our test track in a respectable 8.7 seconds (two tenths behind the Subaru, but a tenth ahead of the Skoda), it's not a patch on its competition here when it comes to comfort.
The set-up feels too firmly sprung and too loosely damped, so the Eclipse Cross's axles pogo over bumps, sometimes rebounding with a harsh thud. Despite this stiff feel to the ride there's noticeable roll, while the slow steering means it's not as good to drive as either the Subaru or Skoda.
Sometimes CVT gearboxes can be frustrating to use when you're behind the wheel, but the unit in the Eclipse Cross is actually okay, as long as you keep a lid on how aggressive you are with the throttle.
It'll cruise along happily, responding like a conventional auto as it shifts smoothly through its artificial ratio steps. However, put your foot down and the revs do rise as the gearbox holds the engine at its optimum point for performance.
At least you don't get much of a 'rubber band' feel that's associated with some CVTs, a problem that still afflicts the XV. Settle down to a cruise on the motorway and the powertrain is adequate, with an acceptable level of refinement. The ride is improved at higher speed, too, but it's by no means perfect and doesn't deliver the same level of comfort over the same roads at the same speeds as its two rivals here. 
Testers' notes: "The Eclipse Cross's tailgate looks unusual, but that bar which splits the two panes of glass can make rearward visibility, and therefore manoeuvring in tighter spaces, a little awkward." 
Skoda Karoq
| | |
| --- | --- |
| Model: | Skoda Karoq 1.5 TSI DSG Edition |
| Price:  | £28,410 |
| Engine:  | 1.5-litre 4cyl turbo petrol, 148bhp  |
| 0-60mph:  | 8.8 seconds |
| Test economy:  | 34.2mpg/7.5mpl  |
| CO2:  | 127g/km |
| Annual road tax:  | £140 |
The Skoda Karoq arrived last year and immediately went straight to the top of the class, defeating our previous family SUV favourite, the Peugeot 3008. In every sense then, this is the car the two new contenders have to beat, but it's not a foregone conclusion. In £28,410 1.5 TSI DSG Edition spec (although our pictures show an SE L), can the Karoq carry its momentum to win here?
The 1.5 TSI engine is actually the least powerful of the three, but the sharp-shifting DSG gearbox helped the car sprint from 0-60mph in 8.8 seconds.
Although this was slower than its rivals, the unit delivers strong torque low down, and allied to that transmission, it makes the Karoq more flexible and more refined because the revs don't rise abruptly when you ask for a burst of acceleration. The box changes smoothly in automatic mode, giving a nicer, stronger connection to the powertrain.
On the move the Skoda feels sharper than either of the Japanese cars. The steering is more responsive to your inputs, and it's more agile because there's less roll through changes of direction.
This stems from the Karoq's fairly firm set-up for a family SUV, but the damping is better than in the Eclipse Cross, so it's more comfortable over rutted road surfaces; it even shades the fairly fluid-feeling XV, despite the Skoda's larger 19-inch alloys.
The faster you go the more the Karoq's body control comes to the fore, giving plenty of security and confidence. The more energy you put through the springs and dampers, the more the ride calms down, but as these mid-size SUVs are likely to spend plenty of time in town, the relatively composed feeling from the Skoda's suspension over broken surfaces means the Karoq has the edge over the Mitsubishi in particular here, too. 
Testers' notes: "If you want a 4x4 Karoq you'll have to go for the 2.0 TDI. While this is still a good engine and should return even stronger fuel economy, it'll cost you more to run as a business user."
Verdict 
First place: Skoda Karoq
The Karoq is still king thanks to its blend of style and usability, agility and comfort, plus performance and efficiency. You can add a longer list of more advanced equipment to its attributes, plus lower running costs. A few foibles mean it's still flawed, but these are small and the gulf to its rivals here is so big that it can't stop the Skoda pulling off a convincing win.
Second place: Subaru XV
By the smallest of margins the XV beats the Mitsubishi to second spot, but it's no triumph. Thanks to its more bearable ride quality compared with the Eclipse Cross and performance to match, plus a more extensive kit list and a higher-quality cabin, the Subaru is better than its predecessor. But it'll be pricier to buy and run for private buyers, while it still lags some way behind the Skoda. 
Third place: Mitsubishi Eclipse Cross
The Eclipse Cross is a better effort from Mitsubishi and shows the brand is moving forward. Strong practicality means families will be well catered for, yet the brittle and busy ride, sub-standard infotainment system and lack of refinement hurt it against the better-engineered Skoda. It'll be pricier to run than its rivals, but it trails on quality even if it's well equipped. 
Other options in this category...
Peugeot 3008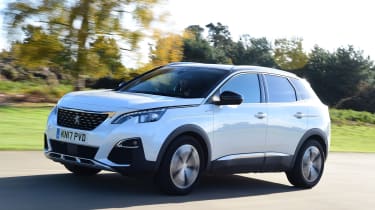 Model: Peugeot 3008 1.2 PureTech 120 GT LinePrice: £26,470Engine: 1.2-litre 3cyl, 118bhp 
Peugeot's punchy turbo petrol might be a little down on power, but it still gives the 3008 adequate performance at an affordable price. GT Line gets lots of advanced tech, while style and practicality mean it's as appealing as the Karoq. 
Renault Kadjar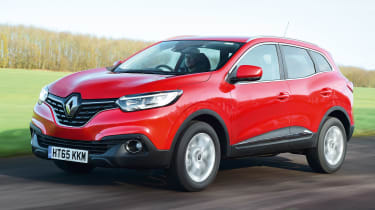 Model: Renault Kadjar 1.2 TCe 130 Signature S NavPrice: £25,12Engine: 1.2-litre 4cyl, 128bhp
Renault's Kadjar is a former Auto Express favourite, and  although it loses out on power compared with its rivals here, the smooth engine offers just enough with a price advantage in top-spec Signature S Nav trim.
Figures
| | | | |
| --- | --- | --- | --- |
|   | Skoda Karoq 1.5 TSI DSG Edition | Subaru XV 2.0i SE Premium Lineartronic | Mitsubishi Eclipse Cross 4 1.5 MIVEC Auto 4WD |
| On the road price/total as tested | £28,410/£28,410 | £28,510/£29,060 | £27,915/£28,455 |
| Residual value (after 3yrs/36,000) | £14,475/51.0% | £10,355/36.3% | £11,755/42.1% |
| Depreciation | £13,935 | £18,155 | £16,160 |
| Annual tax liability std/higher rate | £1,466/£2,932 | £1,788/£3,576 | £1,681/£3,363 |
| Annual fuel cost (12k/20k miles) | £1,914/£3,190 | £2,002/£3,337 | £2,175/£3,625 |
| Insurance group/quote/VED | 16/£449/£140 | 16/£481/£140 | 20/£396/£140 |
| Cost of 1st/2nd/3rd service | £279 (2 services) | £109/£129/£149 | £450 (3yrs) |
|   |   |   |   |
| Length/wheelbase | 4,382/2,638mm | 4,465/2,665mm | 4,405/2,670mm |
| Height/width | 1,603/1,841mm | 1,615/1,800mm | 1,685/1,805mm |
| Engine | 4cyl in-line/1,497cc | Flat-four/1,995cc | 4cyl in-line/1,499cc |
| Peak power/revs  | 148/5,000 bhp/rpm | 154/6,000 bhp/rpm | 161/5,500 bhp/rpm |
| Peak torque/revs  | 250/1,500 Nm/rpm | 196/4,000 Nm/rpm | 250/1,800 Nm/rpm |
| Transmission  | 7-spd DCT/fwd | CVT auto/4wd | CVT auto/4wd |
| Fuel tank capacity/spare wheel | 50 litres/£150 | 63 litres/repair kit | 60 litres/repair kit |
| Boot capacity (seats up/down) | 479-588/1,810 litres | 385/1,275 litres | 341-448/1,122 litres |
| Kerbweight/payload/towing weight | 1,318/611/1,700kg | 1,439/N/A/1,400kg | 1,550/600/1,600kg |
| Turning circle | 10.2 metres | 10.6 metres | 10.6 metres |
| Basic warranty (miles)/recovery | 3yrs (60,000)/3yrs | 5yrs (100,000)/3yrs | 5yrs (62,500)/3yrs |
| Driver Power manufacturer/dealer pos. | 2nd/5th | 4th/N/A | N/A/N/A |
| NCAP: Adult/child/ped./assist/stars | 93/79/73/58/5 | 94/89/84/68/5 | 97/78/80/71/5 |
|   |   |   |   |
| 0-60/30-70mph | 8.8/8.1 secs | 8.7/8.5 secs | 8.5/8.1 secs |
| 30-50mph in 3rd/4th | 3.6/5.1 secs | 3.1 secs*  | 3.2 secs*  |
| 50-70mph in 5th/6th/7th | 8.2/10.9/14.0 secs | 5.0 secs*  | 4.9 secs*  |
| Top speed/rpm at 70mph  | 126mph/2,000rpm | 120mph/1,800rpm | 124mph/2,100rpm |
| Braking 70-0/60-0/30-0mph | 46.5/32.2/8.0m | 53.3/38.1/10.1m | 52.3/39.8/10.2m |
| Noise outside/idle/30/70mph  | 66/51/63/68dB | 69/46/55/68dB | 70/45/59/70dB |
| Auto Express econ. (mpg/mpl)/range | 34.2/7.5/376 miles | 32.7/7.2/453 miles | 30.1/6.6/397 miles |
| Govt urban/extra-urban/combined  | 41.5/56.5/50.4mpg | 32.5/48.7/40.9mpg | 34.4/45.6/40.4mpg |
| Govt urban/extra-urban/combined  | 9.1/12.4/11.1mpl | 7.2/10.7/9.0mpl | 7.6/10.0/8.9mpl |
| Actual/claimed CO2/tax bracket | 191/127g/km/26% | 200/155g/km/32% | 217/159g/km/32% |
|   |   |   |   |
| Airbags/Isofix/park. sensors/camera | Seven/yes/yes/yes | Seven/yes/no/yes | Seven/yes/yes/yes |
| Auto box/lane keep/blind spot/AEB | Yes/yes/yes/yes | Yes/yes/yes/yes | Yes/yes/yes/yes |
| Clim ctrl/cruise/leather/heated seats | Yes/yes/yes/yes | Yes/adaptive/yes/yes | Yes/adaptive/yes/yes |
| Metallic/LEDs/keyless/power tailgate | Yes/yes/yes/yes | £550/yes/yes/no | £540/yes/yes/no |
| Sat-nav/digital dash/DAB radio | Yes/yes/yes | Yes/no/yes | No/no/yes |
| Wireless charge/CarPlay/Android Auto | Yes/yes/yes | No/yes/yes | No/yes/yes |