Used Suzuki Jimny (Mk3, 1998-2018) review
Cute but dated, the Suzuki Jimny offers rugged 4x4 ability in a package that's the size of a city car
Verdict
The Suzuki Jimny enjoyed a remarkable 20-year run after being launched in 1998, despite its shortcomings when it came to ride comfort, refinement and on-board technology. By the time it left the stage in 2018 the Jimny belonged in a different world, with modern rivals offering far more in virtually every department. However, as one owner explained to us: "I'd much rather drive a BMW, Merc or Audi. The Jimny's wipers are rubbish and the headlights are like candles. But in the snow this little car leaves them all sliding about on the road – its 4x4 capability is unreal."
So while it's not the best car on the road, there are few that can match it when the going gets tough on varied terrain. And if you've got a limited budget, you won't get much better value for money elsewhere.
Which one should I buy?
Best Suzuki Jimny for low cost: 1.3 VVT SZ3
Best Suzuki Jimny for fuel economy: 1.3 VVT SZ4
Best Suzuki Jimny for equipment: 1.3 VVT Adventure
There's only one engine: a 1.3-litre petrol. This initially came with 82bhp, but from March 2005 its power was boosted slightly to 85bhp. You can choose a five-speed manual or a four-speed automatic gearbox, but we'd always take the former.
No Jimny is lavishly equipped and, unless you're buying a relatively new example, you should focus on condition rather than specification. We would avoid pre-March 2005 cars, though, because the revamped engine has variable valve timing, more low-down torque and is more efficient.
The Jimny received some styling updates in 2013 which included a new front bumper, grille and bonnet design incorporating a central air intake. The facelift also included repositioned front fog lights. These changes resulted in the Jimny growing in length by 30mm.
We'd recommend buying a later Jimny, ideally in SZ4 trim, although it will still feel dated alongside modern crossovers and small SUVs.
What are the alternatives?
The Jimny's only true rival is the Daihatsu Terios, which was sold in the UK from 1998 to 2006. This was also small, cheap and quite capable off-road, but not so good for on-road driving. It's by far the most readily available used Daihatsu, but there still aren't very many to choose from. Another alternative would be the Fiat Panda 4x4.
You could also consider the Dacia Duster. It's larger and more modern than the Jimny, but similarly capable off-road, and more refined, affordable and available with petrol or diesel power. If you just want the security of four-wheel drive but have no plans to go off-roading you could buy a Vauxhall Mokka or Nissan Juke. Unlike most B-segment SUVs, these are available with four-wheel drive. Both are plentiful and they're also much more up to date than the Suzuki.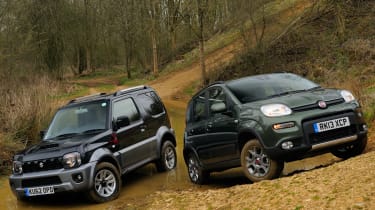 Fiat Panda 4x4 vs Suzuki Jimny
The Fiat Panda 4x4 and Suzuki Jimny provide the proof that you don't need an expensive SUV to venture off the beaten track. These little mountain goats will give many premium 4x4s a run for their money when the going gets tough. It was hard to pick a winner, but the Panda 4x4 finished just ahead of the Jimny. Read the full test...
How much will a used Suzuki Jimny cost?
Although the prices look competitive, you don't get a lot of equipment for the money – especially when you compare the Jimny to the likes of the Nissan Juke or Fiat Panda 4x4.
Prices
Prices start from around £2,000, but caution is advised when buying a Suzuki Jimny at this end of the market. A car might look clean and tidy on the outside, but it could be hiding severe and catastrophic corrosion underneath. It speaks volumes that you might struggle to find a Suzuki Jimny built before 2005 – rust is a problem.
Partnership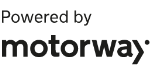 Need to sell your car?
Find your best offer from over 5,000+ dealers. It's that easy.
Post-facelift examples start from around the £10,000 mark, while a £20,000 asking price isn't uncommon for 2018 models. In many ways, Mk3 Jimny values have been boosted by the demand for the Mk4 Jimny, but don't pay over the odds for what is a dated vehicle.
You can check out the latest used prices for the Suzuki Jimny on our sister site BuyaCar.
Economy and CO2 emissions  
The age of the 1.3-litre engine becomes even more apparent when you look at the efficiency figures for the Suzuki Jimny. The car weighs only around one tonne, yet the manual model has claimed economy of only 39.8mpg and emits a hefty 162g/km of CO2, so buyers can expect large fuel and road tax bills. The automatic version returns figures of 38.7mpg and 167g/km, so there's not a huge penalty for choosing the auto.
It's encouraging to note that you're likely to see around 35mpg from the manual and 30mpg from the automatic in daily use. Decent figures from a vehicle with excellent off-road ability.
Running costs  
Service intervals are 9,000 miles or 12 months, alternating between minor and major, which are priced at £186-£290 and £318-£525. Jimnys more than three years old get discounted maintenance at Suzuki dealers, with services costing from £129-£259.
Even the major service is largely about checking and reporting, though; the replacements are the brake fluid, in-line fuel filter, plus the air and pollen filters. The minor service comprises an oil and filter change plus a check of the coolant level and electrics. The brake fluid should be replaced every two years or 18,000 miles and the coolant every three years or 36,000 miles. There's no cam belt to renew.
The Jimny isn't expensive to insure, but it's a little more expensive than the turgid performance figures might suggest with insurance group ratings of 14 or 15 depending on the model.
What do owners think? 
This generation of the Jimny didn't  make it into our new or used Driver Power surveys because it's too specialised. But there are dozens of owner reviews on the Carbuyer website with an average rating of 4.7 out of 5. Many owners revel in the durability of their Suzuki, its off-roading ability and its great looks – but not the poor refinement or disappointing fuel economy.
The car has developed a cult following, with many owners buying three or four cars in succession. It shouldn't be difficult to find a cherished example owned by a loving enthusiast.
Reliability
Suzuki continues to perform well in our Driver Power customer satisfaction surveys, finishing 14th out of 29 brands on the list of manufacturers. A strong ranking for a value-driven brand and higher than the likes of BMW (21st), Land Rover (22nd) and Audi (23rd).
It's worth checking out our sister site Carbuyer, which suggests that 90 per cent of Suzuki Jimny owners would recommend the car to a friend. There are also plenty of five-star reviews from satisfied owners.
You have to accept the Jimny for what it is: a car with a 20-year production run that's more at home off the road than it is on the road. Many owners rely on their Jimny to keep them mobile in the winter and when the weather turns a bit 'British'. If you're after a soft-roader, look elsewhere.
How practical is it?
Comfort and practicality weren't the primary objectives when Suzuki planned the rugged go-anywhere Jimny. It does offer a lockable glovebox, and there are a couple of cup-holders up front as well, but the lack of clever storage, particularly in the boot, only serves to reinforce the dated feel of the vehicle.
Dimensions and cabin design
The Suzuki stands out in the 4x4 market as it's so small – at only 3,645mm long and 1,600mm wide, it's similar in size to a city car. It's taller than most city cars, at 1,705mm, though, so drivers get a great view above the traffic.
Space is at a premium in the tiny Suzuki Jimny. While the driver and front passenger will enjoy the great view of the road, legroom is poor, and there's not a lot of space in the two back seats.  
Boot space
The boot is cramped, too. It has a capacity of 113 litres with the rear seats in place, and expands to only 286 litres when you fold the seat backs down, plus there's a big step in the floor when you do this.
Equipment and technology 
There's no getting away from the boxy looks of the Suzuki Jimny. The design comprises a bluff front end with large headlights, while the flat rear is distinguished by the spare wheel mounted on the tailgate, which is a throwback to the late nineties, when the Jimny was originally launched. The interior is dated, with the dash's squared-off lines, hard plastics and limited equipment, although SZ4 models feature air-conditioning and artificial leather.
It's increasingly unusual for SUVs to retain separate body-on-chassis construction too, but there's an honest simplicity to the engineering and it will take the Jimny to places where more fashionable SUVs fear to tread.
All Jimnys come with a two-speaker audio system plus a CD player and USB connector. The SZ4 model adds DAB digital radio, while the Adventure special edition comes with a touchscreen sat-nav system and Bluetooth integrated into the audio system.
Safety
The Jimny leaves a lot to be desired in terms of standard safety features. There are airbags for the driver and front seat passenger only, while stability control isn't even available as an option. The likes of the Nissan Juke and Fiat Panda 4x4 offer a much more comprehensive list of safety kit for the money.
In 2014, the Jimny gained a new design instrument cluster that included a tyre pressure monitoring system as a gear shift indicator to help the driver keep fuel consumption to a minimum. ESC (Electronic Stability Control) was added as standard equipment in 2015.
What's it like to drive?
You get a great view out of the Suzuki Jimny from the driver's seat, and those compact dimensions make it very easy to park. However, the controls feel very dated. There's a light clutch, but the gearbox is vague and feels like it will jump out of gear at the slightest bump, while there's a huge amount of lock for the vague steering.
Engines
A dated four-speed automatic is available on the SZ4, but no matter which gearbox you go for, the 84bhp 1.3-litre four-cylinder petrol engine has to be worked hard to make meaningful progress: 0-60mph takes 14.1 seconds in the manual car, while it stretches out to 17.2 seconds with the auto option. Short gearing means the Jimny drones on at motorway speeds, too.  
On the road
Once you're up to speed, the tall body doesn't inspire confidence in corners, with body roll a real issue. The bouncy ride makes town driving uncomfortable, too, but you soon forget all the downsides as soon as you head off road.
The Jimny is virtually unstoppable in the rough, and can venture farther off road than most other 4x4s, and certainly a lot further than the new crop of supermini-sized crossovers, most of which don't even feature 4WD. 
What should you look out for?
The Suzuki Jimny upholds the company's reputation for reliability, and has been recalled just twice since it first hit showrooms back in 1998. That's an amazing record. The 4x4 transmission will also provide reassuring grip and traction in the worst winter weather, and while the interior plastics feel hard, everything is solidly put together.
The same can't be said of the Jimny convertible, which was built in Spain for the rental market. Substandard build quality and leaky roofs are a package deal you could do without.
Common used Suzuki Jimny problems
Wheels Some cars are fitted with three-spoke alloy wheels, which have been known to buckle. Stronger replacements are available.
Brakes The front brake discs are somewhat prone to warping, so make sure to feel carefully for juddering through the pedal as you press it.
Roof If you're looking to buy one of the soft-tops, check to see if water has managed to get into the cabin, because leaks are a common occurrence. 
Corrosion Look closely for signs of rust, particularly in the wheelarches, door bottoms, boot floor, floorpans, and behind the bodykit.
Recalls
The Jimny has been recalled five times over 20 years. The gearstick could fall apart on cars built up to October 1999. A loss of power steering assistance led to the second recall in July 2010; in April 2014 the third was for axle fixings that could work loose. The fourth came in September 2015 because of potential electronic stability programme failure, while the latest campaign tackled possible brake servo failure.