New Suzuki Jimny Commercial 2021 review
The Suzuki Jimny Commercial breathes new life into the rugged small 4x4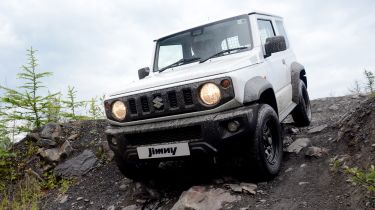 When the new Suzuki Jimny arrived in 2018, it quickly became a cult classic. The small SUV was one of the best off-roaders for sale at any price, and while it came with serious compromises, buyers were hooked, and Suzuki couldn't keep up with demand.
Unfortunately, the Jimny fell foul of European emissions regulations, so sales stopped almost as soon as they started. But fast-forward to 2021, and while a second-hand Jimny is a much-sought after machine, Suzuki is selling it as a new model again, but this time in the shape of the Jimny Commercial.
Suzuki is able to do this thanks to the less stringent emissions legislation that commercial vehicles must meet. So the SUV's two back seats have been ditched and replaced by a flat cargo area that has 863 litres of space and a payload of 150kg. As it turns out, this is no real hardship, because Suzuki customer feedback has shown that many Jimny SUV owners permanently folded the back seats down anyway.
The only other change inside is the addition of a steel mesh partition to prevent items falling forward into the cabin. However, this does limit the range of seat adjustment, and if you're tall you'll find the driver's seat doesn't go back far enough, leaving you with a cramped driving position once you've got your left leg under the large steering wheel.
More reviews
Car group tests
In-depth reviews
Road tests
Used car tests
The Jimny Commercial is based on the entry-level SUV, so you get a more basic stereo – although DAB, Bluetooth and a USB connection are still fitted - while air conditioning and electric windows are just about the only concessions to luxury. On the outside, the chunky styling of the Jimny remains as appealing as ever, with black plastic add-ons helping to protect the car from dents and scrapes, while black steel wheels add to the purposeful looks.
Under the skin, the selectable four-wheel-drive transmission is the same as the SUV's, as is the 1.5-litre four cylinder petrol engine. The standard five-speed gearbox has relatively short ratios and a long throw of the gearlever, while a second lever selects between 2WD, 4WD or low range for tougher off-road conditions.
We tried the Jimny on gravel roads and tough, rocky terrain, and we're pleased to report that nothing has changed in terms of the little 4x4's ability in the rough. There was nothing that could stop it, and the Jimny will easily put to shame rival 4x4s that cost thousands of pounds more. The rigid axle suspension means you're bounced around the cabin like a pinball on rocky terrain, but the Jimny just keeps going, no matter what you throw at it.
However – and it's a big however - the Jimny Commercial still demands the same compromises when it comes to on-road driving. The short gearing means it's noisy at higher speeds. You can easily drive around town in fifth to keep things calm, but that means a lot of engine noise is present if you go any faster. The ride is bouncy, and the car's compact dimensions mean the driving position is cramped (especially now that there's a steel bulkhead restricting seat movement even further). The steering has lots of turns from lock to lock, too, making the car a chore to manoeuvre at low speeds.
And yet, all of these compromises only add to the Jimny's charm. Suzuki certainly won't struggle to sell it, that's for sure. The company is planning to bring 500 to the UK, but it says it's already had nearly 5,000 enquiries from potential buyers, including those that weren't able to secure an SUV before it went off sale. It's easy to see why people want a Jimny - it looks great, and if you spend any time driving one in the right conditions you'll soon be able to forgive its foibles.
| | |
| --- | --- |
| Model: | Suzuki Jimny Commercial |
| Price: | £16,796 (ex.VAT) |
| Engine: | 1.5-litre 4cyl |
| Power/torque: | 101bhp |
| Transmission: | Five-speed manual, selectable four-wheel drive with low range |
| 0-62mph: | 13 secs (est) |
| Top speed: | 90mph |
| Economy: | 36.7mpg |
| Emissions: | 173g/km |
| On sale: | Now |