Winter Tyre Test 2011
Changing tyres could be the key to staying on the move this winter. Our comprehensive guide explains why you should swap - and puts nine top brands to the test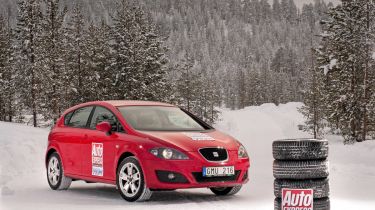 A second early cold snap in as many years caught tyre manufacturers and retailers out last December, as the demand for winter rubber rapidly outstripped supply.
As we saw in last year's cold weather tyre test the safety case for winter tyres is compelling on snow, and just as strong when roads are cold and wet. Some tyre makers, such as Continental, even suggest using a winter tyre all year round as the safest option if your budget doesn't stretch to a second set.
Others, including Bridgestone, prefer the all-season option, which promises close to winter tyre performance on snow, without as big a compromise in grip during warmer months.
To help you decide what to do, we tested five premium winter tyres, a budget version and three all-season tyres in the popular 225/45R17 size. We also compared them to a standard tyre (which the rest of Europe knows as a 'summer pattern') to see if there was any difference in performance.
With the help of Continental, we returned to the frozen lakes and bitter -30 degrees Celsius temperatures of Arvidsjaur in Sweden for the snow tests, before heading south to a chilly Contidrom near Hanover, Germany, for the wet and dry assessments.
Overall verdict
| | | | |
| --- | --- | --- | --- |
| 1 | Continental | 100.0 | Best winter |
| 2 | Goodyear | 99.3 | |
| 3 | Pirelli | 98.9 | |
| 4 | Michelin | 98.7 | |
| 5 | Hankook | 96.4 | Best all-season |
| 6 | Vredestein | 95.7 | |
| 7 | Nankang | 93.5 | |
| 8 | Kumho | 90.0 | |
| NR | Dunlop | 99.1 | |
| NR | Summer tyre | 60.1 | |
What we tested
All tyres are 225/45R17 size and include weight and speed ratings H = up to 130mph; V = up to 150mph)
Winter Continental ContiWinterContact TS 830 P 91 H Goodyear UltraGrip Performance 2 94 V Dunlop SP Winter Sport 4D (pre-production) 91 H Pirelli Sottozero Winter 240 Serie II 94 V Michelin Alpin 4 94 V Nankang Snow SV-2 94 V
All-season Hankook Optimo 4S 94 V Kumho Solus Vier 94 V Vredestein Quatrac 3 94 V
Summer Continental ContiSportContact 3 94 Y
How we tested
Tests on snow, in the wet and in the dry will be a stern challenge for all of our tyres:
Snow braking This is the biggest fear in snow driving and a prime cause of crashes. Driving on freshly graded snow on the frozen lake, we braked from 25mph, triggering the anti-lock system every time. We measured the distance it took to reach 12mph and calculated how long would be needed to bring the car to a halt. This removes inconsistencies in the last few metres of stopping. Results are based on stopping distances, and are an average of several stops per tyre. This was done twice to ensure a repeatable result.
Snow traction Getting stuck is one of the major problems of winter driving, leaving drivers stranded and roads blocked. This test measures how much traction each tyre can generate. With the traction control off, we accelerated at the same brisk rate from walking pace until the wheels spun, and used a g-meter to measure the force generated. We made 20 attempts on each tyre using only graded snow that had not been driven on. As with braking, we repeated the test to ensure a fair result.
Snow handling Winding its way through woodland, the Skanska handling track combines hairpins, off-camber turns and fast sweepers with plenty of elevation change. Mimicking real-world driving, we left the anti-lock brakes and ESP system on – the lap time would come from extra traction and carrying more speed through corners. For the best tyres, this meant that electronic aids were a limiting factor. The result is based on average times.
Snow slalom Last time, we did this test to demonstrate the difference between winter, all-season and summer patterns, but this time we extended it to all tyres to get a measure of the cornering grip each can generate. At 19mph, using the same amount of lock in each direction, we drove a slalom in the newly graded snow and measured the lateral force using a g-meter. The result was taken from an average of the forces generated.
Straight aquaplaning The chances of hitting deep water are high in winter, and this test reveals how well each tyre copes. Using the rail system, the car was repeatedly accelerated with one side running in seven millimetres of water. Its speed was recorded when the measured wheel spin of the tyre in the water reached 15 per cent more than the one in the dry. This is when control is lost, as the car rides on the water rather than cutting through it.
Curved aquaplaning A tyre that can pump water out from under the tread effectively is the key to a good result in the aquaplaning test. This measures how well it can shift the water when the grooves and channels are distorted by cornering forces. A section of a large tarmac circle is flooded and the car is driven through it at ever-higher speeds until grip is lost. The lateral force is measured at each stage to get a result.
Wet handling Lap times are what count here, as we push each tyre to its limit on a 1.8-kilometre track that requires precision and commitment. Unlike last year's cold weather test, the temperature this time around was below the seven degrees C point where winter tyres should have the edge over the summer ones. This performance advantage grows as the temperature drops, because the winter tyre compounds remain flexible.
Wet braking Using the rail system, we did a series of emergency stops from 50mph, with an average of the distances needed to stop taken to get the overall ranking. The rail ensures that exactly the same strips of tarmac are used each time, eliminating any variables. Like the wet handling test (but unlike the aquaplaning, where construction and pattern are more important) this is a temperature-sensitive test, and the winter tyres should have the edge below seven degrees Celsius. Our test was conducted at between four and six degrees Celsius.
Dry handling This is a key test for those looking to run winter tyres all year round. It shows how much performance you lose in warm and dry weather. The deciding factor here is lap times, and the overall rating is based on an average of two laps. Using the same lines, gearshift and braking points, we let the time come from carrying more speed into the corners and accelerating earlier. Stiff tread blocks give summer tyres the advantage.
Dry braking As in the dry handling test, the summer tyres have a clear advantage here thanks to their stiffer tread blocks. The critical questions are how much of an advantage, and what's the risk of running winter rubber all year round? We braked from 62mph, using cones to direct us on to the same tarmac strip and recording the stopping distance. Ratings were based on an average of several runs.
Rolling resistance With fuel prices remaining high and concern for the environment rarely out of the news, rolling resistance has become an important factor when purchasing tyres. We carried out an industry standard test that measures the power needed to turn a steel wheel with and without a tyre pressed to it. Tyre makers are paying particularly close attention to rolling resistance, as it's one of the factors that will be included when tyre labelling arrives next year. A good rule of thumb is that a five per cent drop in rolling resistance gives a one per cent drop in fuel consumption.
Price It's almost impossible to come up with a definitive figure for tyre prices, so we went to the www.mytyres.co.uk online store for ours, as it stocked all of the tyres. The prices were correct at the time of going to press, but shopping around may get you a better deal on a specific tyre. It was clear that the regularly quoted 20-25 per cent premium for winter over summer tyres was much bigger in this popular size, as summer tyres would likely enjoy a bulk discount that distorts the usual difference.
How we scored
We split the results into three equal sections – snow and wet, plus a selection of other tests – and essentially added up the percentage scores from each discipline. As drivers want different things from their tyres, our final result does not favour one test over another, and the only weighting we apply is to make each test worth the same in the final ranking. So a test with a narrow performance gap, such as dry handling, counts the same as one where it is wide, like curved aquaplaning. By doing this, a win in all tests should count the same towards the overall result. The exception is price, which plays a small part in the overall ranking.
A. A tyre's score is a percentage figure, with the top-rated rubber getting 100%.B. We've also ranked each tyre for each individual test.C. The overall figure is exactly that, and doesn't relate to the scores above.D. Finally, we have a ranking of where the tyre finished in our overall results.