New Vauxhall Astra-e: electric hatchback set for 2023 launch
The new all-electric Vauxhall Astra-e will join the hatchback's line-up in 2023, and could boast a range of around 250 miles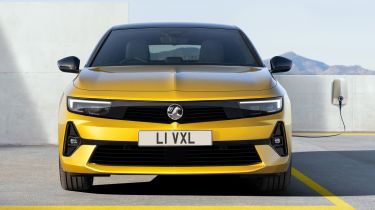 Vauxhall has announced that it will electrify the new Astra further with the arrival of a fully-electric version in 2023. The Astra-e will come in addition to the plug-in hybrid option that will be available when the new Astra goes on sale next month.
The new Astra-e will join the Corsa-e and the Mokka-e in the brand's line-up, which will have an electrified version of every model by 2024. The plan is for the Vauxhall range to be fully electric from 2028 onwards.
Vauxhall has not revealed any technical details for the Astra-e, but its arrival lifts the lid further on the updated platform strategy of Stellantis - Vauxhall's parent company formed by the merger of PSA and FCA.
New electric car platform
With its arrival slated for 2023, it looks like the Astra-e will be one of the first vehicles to arrive on the new Stellantis STLA Medium platform, suitable for C and D-segment vehicles, so think family hatchbacks like the Astra and larger SUVs like the Grandland. Cars using this new electric platform will be in production from the end of 2023.
The platform is the Stellantis branded version of the eVMP platform, which was being developed by PSA back when it was a standalone company. It is, in effect, a further development of the EMP2 platform that sits underneath the new Astra in petrol, diesel and plug-in hybrid format.
It all means that despite being on a platform with a different name, there will be some mechanical similarities between the combustion engined and fully-electric versions of the Astra, and if the STLA Medium/eVMP system works in the same way as the e-CMP platform for smaller cars, it will run down the same production line as vehicles on EMP2 as well.
Battery packs between 60kWh and 100kWh in capacity were touted for the eVMP system when it was a pure PSA project. Since it has been incorporated into Stellantis as the STLA Medium, the group has promised that the platform will deliver EVs capable of up to 434 miles on a single charge, more or less tallying with the 100kWh maximum capacity previously confirmed by PSA.
The Astra-e's battery pack will most likely be closer to the 60kWh mark, and a range of around 250 miles on a single charge would be possible with a cell of this size between the axles.
If the Astra-e model follows the design convention set out by the Corsa-e and Mokka-e, there will be minimal difference in the way the Astra-e looks in comparison with its combustion engined siblings. A few key identifiers, such as a charging flap, distinct alloy wheels and paint options, may be the only real source of differentiation.
Click here for our new Vauxhall Astra prototype review...