Vauxhall Astra SRi 1.6 CDTi review
New Vauxhall Astra SRi 1.6 CDTi promises mixture of strong efficiency and great refinement
The new Vauxhall Astra SRi 1.6 CDTi 'whisper diesel' is a fantastic engine that lives up to its name. Stick to low revs, and it purrs away beautifully. It offers a sharp turn of pace, too. The 108bhp version costs less than our 134bhp test car, and emits less than 100g/km of CO2 – although if you're considering either of these Astras, there are cheaper, cleaner and more desirable rivals.
Buying an eco hatch like the Vauxhall Astra SRi 1.6 CDTi used to come with a series of compromises: long gear ratios, a wheezy engine and narrow, hard-compound tyres to mention but a few. Yet these days, superb fuel efficiency is considered the norm, and customer expectations are higher than ever.
To meet these demands, Vauxhall has fitted the Astra with its new 1.6 CDTi 'whisper diesel' (already available in the Zafira Tourer and Meriva). This is capable of returning up to 78.5mpg and emitting only 94g/km of CO2 in 108bhp tune.
Vauxhall claims it's one of the most refined engines in the class, but is it enough to see off super-talented competition such as the Volkswagen Golf BlueMotion and the SEAT Leon Ecomotive?
More reviews for Astra Hatchback
The model we drove wasn't in fact the 94g/km 108bhp 1.6 CDTi, but the more powerful version of that diesel with 134bhp and 320Nm of torque.
As a result, economy falls to 72.4mpg and CO2 emissions climb to 104g/km, although you get a healthy performance boost. While the 9.7-second 0-60mph time doesn't sound that special, the in-gear performance – when you put your foot down from a rolling start – is impressive. The power delivery isn't as linear as in a modern petrol turbo, but neither is there a sudden surge as the turbo wakes up.
That means the car is at its happiest purring along at below 2,500rpm, short-shifting through the six-speed manual gearbox and making the most of the available torque. Wind the revs up past that point and your relaxed mood begins to unravel as a booming engine note intrudes into the cabin. Keep things smooth and sensible, though, and the refinement really is impressive – all you hear from under the bonnet is a muted hum.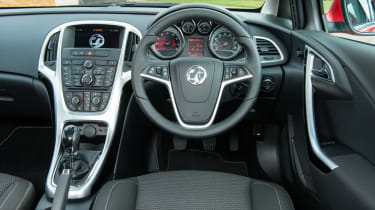 Also new is the six-speed manual gearbox, redesigned for an improved shift quality. It's definitely lighter than before, allowing you to flick it around with ease, but it lacks the mechanical, notchy action that makes the Audi A3 feel slightly sportier.
The rest of the package is familiar Astra, which means plenty of grip and stability in corners, a well put-together but drab interior and hushed progress at motorway speeds – yet no real thrills from the driver's seat.
The steering is crisp and precise, but slightly numb, and the ride is just cushioned enough to stop you crashing over cracks in the road – a relief given that our test SRi was fitted with optional 19-inch rims (£565) and comes with lowered sports suspension. This new engine makes the Astra a seriously capable all-rounder, then, with plenty of space for the whole family.
In the end, though, with such a variety of capable contenders in this sector, it comes down to number crunching – and the Vauxhall doesn't fare quite so well.
At £21,640, the 108bhp SRi costs £370 more than the 108bhp Golf BlueMotion – even though that car claims 88.3mpg and emits a remarkable 85g/km of CO2. Compare the Astra to the 108bhp Leon over the page, and it looks even less appealing, as the Ecomotive is £1,980 cheaper, plus nearly as efficient as the BlueMotion, with 85.6mpg and 87g/km.
For desirability and raw numbers, the CDTi still trails its rivals – although it's sure to help Vauxhall build on its sales figures nevertheless. The Astra was the UK's fourth best-selling car last year, with more than 68,000 finding homes.