Used Vauxhall Corsa (Mk4, 2014-2020) review
The Vauxhall Corsa is stylish, practical and well-equipped, with some impressive petrol engines, and there are plenty of examples to choose from
Verdict 
The Corsa is Vauxhall's ever-popular supermini, having consistently been among the top five best-selling cars in the UK for more than a decade. The fourth-generation model introduced in 2014 wasn't particularly groundbreaking in any area (it was actually a heavy facelift of the 2006 version), but as an overall package it's very good indeed and has enough quality to take on the class leaders.
Its interior is spacious, well-equipped and has a quality feeling to it, while there's a choice of practical five-door and rakish three-door body styles. There's also an extensive range of engines, including fuel-sipping diesels and a fire-breathing turbocharged petrol in the hot VXR. All versions are cost-effective to run, while its huge success in the sales charts means you're spoiled for choice when buying used.
Which one should I buy?
Best Vauxhall Corsa for families: 1.0 T SE
Best Vauxhall Corsa for low costs: 1.3 CDTi 95 ecoFLEX SRi
Best Vauxhall Corsa for towing: 1.4 T Excite
The Mk4 Corsa landed in UK showrooms in October 2014, with a choice of 69bhp 1.2-litre, 89bhp 1.4-litre, 99bhp 1.4-litre Turbo, or 89bhp/114bhp 1.0 turbo petrol engines. There was also a 1.3-litre CDTi diesel in 74bhp or 94bhp forms; only the 89bhp petrol could be paired with an automatic gearbox, dubbed Easytronic.
Vauxhall turned up the wick in May 2015 with the 202bhp Corsa VXR. The GSi joined a slimmed-down range in summer 2018, featuring the VXR's chassis, 17-inch alloys and a 148bhp turbocharged 1.4-litre petrol engine. That simplified line-up featured seven trim levels and a cleaner 1.4-litre engine. In October 2018 Vauxhall added the £11,695 1.4-litre Corsa Griffin to mark 25 years of Corsa sales in the UK.
The turbocharged 1.0 and 1.4-litre petrol engines are the ones to go for, because both offer plenty of zip with decent economy, while the diesel engine is worth considering if you do a lot of driving on the motorway – although the Easytronic transmission isn't well liked and it's less reliable than the manual.
The entry-level (and rare) Corsa Life trim level has a heated windscreen, electric front windows, remote locking and electrically adjustable door mirrors; Sting adds cruise control and 16-inch alloys; Sting R gets sportier trim; and Excite adds air-con, Bluetooth, an infotainment system plus a DAB digital radio, along with heated front seats and a heated steering wheel. The Limited Edition comes with 17-inch alloys, privacy glass and sports suspension, while the SRi gets sports seats and the SE comes with front and rear parking sensors.
What are the alternatives?
The Corsa's biggest problem is the Ford Fiesta, which comes with a huge array of engines and trims, plus it's good value and generally well made. The Ford is much better to drive than the Vauxhall – in fact the Fiesta sets the benchmark for supermini handling.
The refined Renault Clio is good value and fun to drive, and tends to be well equipped. The Peugeot 208 comes with efficient engines and is also well appointed, but it's dynamically disappointing.
The multi-talented Volkswagen Polo is well made, good to drive and comes with some efficient engines, but you'll pay a premium for one. Both the SEAT Ibiza and Skoda Fabia sit on the same platform as the VW and cost less to buy. Don't overlook Toyota's reliable Yaris, nor the dependable, well equipped and good-value Hyundai i20 and its cousin, the Kia Rio, either.
Vauxhall Corsa vs VW Polo vs Ford Fiesta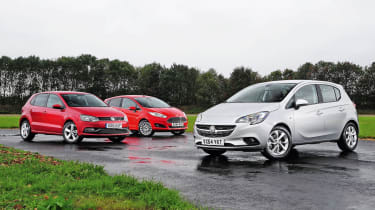 It was a baptism of fire when we pitted the then new Corsa against the desirable Polo and sharp-handling Fiesta in October 2014. Surprisingly, the Vauxhall got the better of the Ford thanks to its brilliant engine and impressive refinement, but the VW's blend of talents proved too strong so the Corsa finished an honorable second. Read the full test...
Skoda Fabia vs VW Polo vs Vauxhall Corsa
There was an even tougher test awaiting the Corsa in December 2014 when it faced the all-new Fabia and previously victorious Polo. Once again the classy and composed VW took the honours, while the Skoda's space and efficiency was enough to relegate the Vauxhall to the bottom step of the podium, albeit by a narrow margin. Read the full test...
Hyundai i20 Coupe vs Vauxhall Corsa
It was a case of style and substance when the sleek new i20 Coupe went up against the equally rakish three-door Corsa in February 2016. While the smartly designed and finished Hyundai looked the part, the Vauxhall was quicker and more fun to drive. In the end its lower price tag tipped the result in the Corsa's favour. Read the full test...
How much will a used Vauxhall Corsa cost?
When Vauxhall launched the fourth-generation Corsa in 2014 it cut prices significantly over its predecessor, making it one of the best value superminis out there. That's reflected in the value of used cars, which often undercut those of similar-age and mileage rivals, and makes the Vauxhall a great value used buy.
Prices
With so many Corsas sold over the years you'll be spoiled for choice when looking for a used example. While new buyers would have suffered at the hands of the Vauxhall's relatively poor resale figures compared to similar-era rivals such as the VW Polo and Skoda Fabia, those purchasing second hand will be able to pick up some bargains.
Partnership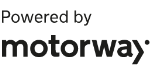 Need to sell your car?
Find your best offer from over 5,000+ dealers. It's that easy.
The Corsa's slump in values has been exacerbated by the launch of an all-new model in 2019. High demand for that car, particularly from owners of its predecessor, further helped lower prices as drivers looked to trade up.
You can get the latest prices at our sister site Buyacar, as well as use the valuation tool to find out what to pay for the exact engine and trim level combination you're most keen on.
Fuel economy and emissions
One vital characteristic of a supermini is that it has to be cheap to run, and in this respect the Corsa doesn't disappoint. Most of its engines are efficient, while low emissions mean affordable tax bills.
Most frugal of the lot is the 94bhp 1.3-litre CDTi diesel, with an official economy figure of 85.6mpg at the pumps – it also qualifies for free road tax thanks to its low CO2 figure of 87g/km. Surprisingly, the lower-powered 74bhp model isn't quite as easy on fuel, at 74.3mpg.
Perhaps the best balance of performance and economy is offered by the 1.0-litre petrol, which promises 57.6mpg and CO2 emissions of 115g/km. You'll probably struggle to match the former figure in real-world conditions, but the high 40s will be achievable. The naturally aspirated 1.2-litre is both more sluggish and thirstier at the pumps.
By the time the fourth-generation Corsa's production run ended, the new WLTP testing regime forced Vauxhall to reduce the engine range to just two 1.4-litre petrols. The most efficient of these is the lower-powered version with a manual gearbox; Vauxhall claims economy of 42.2 to 44.1mpg and CO2 emissions of 128 to 130g/km depending on body style and wheel size.
The more powerful version manages 41.3 to 44.8mpg when combined with a manual gearbox, with CO2 emissions of 123 to 128g/km.
Running costs
All Corsas need to be serviced every 12 months or 20,000 miles, whichever comes first, and there are three levels of service. These are interim, main and major, priced at £160, £265 and £305 respectively for petrol-engined models. For diesel Corsas the equivalent costs are £170, £295 and £335.
While the interim service is merely an oil and filter change, along with a check of the car's key functions, the extra items covered in a main service include a new key fob battery, a fresh pollen filter and replacing the brake fluid and drive belt, plus the service takes in an inspection of the car. The major service adds a new fuel filter, fresh spark plugs and a replacement air filter.
All Corsa engines are chain-driven so there are no cambelts to replace, while there's no set schedule to replace the coolant; it's replaced only when necessary.
As you'd expect, the Corsa shouldn't be especially expensive to insure. Comparable to the similar-age Ford Fiesta, it's popular with first-time drivers and there are abundant parts available, so it's not too expensive to repair. Starting in Group 2, most Corsa models sit in single-figure insurance groupings, the exception being the VXR hot hatch, which is in group 30.
Vauxhall made much of its 100,000-mile, unlimited-time warranty when it launched in 2010, but in 2014 announced that it was withdrawing the scheme and reverting back to a standard three-year, 60,000-mile one. On the plus side, that means the very last of the fourth generation Corsas should still be covered by their original manufacturer guarantee.
What do owners think?
The Corsa hasn't featured in our Driver Power surveys for some time. The last time it appeared in a new cars survey was in 2019 when it finished in a lowly 92nd place. Back then owners didn't place the Corsa highly in any area – the low running costs were a relative high point, with a 43rd placing. 
Reliability
Despite its poor showing in our Driver Power surveys the Corsa shouldn't be a hassle to buy and own. For starters the underpinnings of the car can be traced back to 2006, which means Vauxhall has been able to finesse the car over the years and iron out its weaknesses. The same goes for the engines, which are tried and tested units from elsewhere in the range – for instance, the turbocharged 1.0-litre appeared in the bigger Astra, so it's relatively unstressed in the lightweight Corsa.
How practical is it?
For a small car the Corsa is surprisingly versatile, especially the five-door model. Like all the best superminis the Vauxhall can be called upon to undertake family duties thanks to its roomy interior and usefully large boot. It's also comfortable and easy to drive, and is as relaxing around town as on the motorway.
Dimensions, cabin and boot space
The Corsa was available in either three- or five-door body styles, with each sharing the same measurements of just over four metres in length and two metres in width; the three-door Corsa's coupé-like look is a trick of design. Both are a few millimetres longer and wider than the similar-era Fiesta, but you'll not feel the difference on the road.
Vauxhall packaged the Corsa's interior very well and rear headroom and legroom is excellent for the class. Plus, you'll actually be able to use the two standard rear Isofix child seat mountings without having to push the front chairs all the way forward.
The wide rear bench makes this a genuine five-seat car for adults, in both the three- and five-door versions, but the long doors of the former make getting in and out quite difficult. The five-door is the one to go for if you're using the rear seats a lot.
There's a fair amount of interior storage, with door pockets capable of carrying a 1.5-litre bottle – although there's no box in the centre console between the front seats and the glove box is on the small side.
The driver will find it easy to get a good driving position in the Corsa because there's plenty of seat and wheel adjustment and, vitally, the pedal placement is good – there's a sizable left clutch rest for long journeys.
The 285-litre boot sits right between the contemporary VW Polo and Ford Fiesta in terms of capacity, but the high boot lip can make loading items a little tricky. The rear bench is only 60/40 split as standard on the top SE and Elite trim levels (it's an option on other models) and doesn't fold completely flat, so you're left with a loading area that isn't too well designed.
Equipment and technology
The fourth-generation Corsa was one of the first Vauxhall models to feature the brand's IntelliLink infotainment system. Essentially a large touchscreen, it was ahead of the curve in offering smartphone-mirroring technology and downloadable apps for features such as sat-nav. It doesn't have the crispest graphics or slickest menus, but it's fairly easy to use.
Over the years Vauxhall added numerous trim levels and special editions, but all have been fairly well equipped. The mainstays of the range were the Active, Design, Excite, Energy, Griffin, Sport, SRi Nav, SE Nav and SRi VX-Line Nav Black. Standard equipment includes cruise control, a heated windscreen, hill start assist and 15-inch alloys but equipment levels increase exponentially as you make your way up through the range, including big-car features such as a heated steering wheel.
Design models add the IntelliLink system, with later examples benefitting from Apple CarPlay and Android Auto. SE Nav gets sat-nav and a range of automatic headlights, wipers and mirrors, while SRi VX-Line Nav Black cars get a wealth of equipment and sporty styling.
At the top of the range is the rapid VXR, which has a distinctive body kit on the outside and a pair of figure-hugging Recaro front seats inside. The GSi that replaced it has a lower-powered engine but largely identical trim and equipment.
Such was the endless chopping and changing of the range that it's a good idea to check exactly what kit any potential purchase has before handing over the cash.
Safety 
The Corsa was awarded a four-star Euro NCAP rating when it was tested in 2014, which was disappointing considering many of its rivals achieved the full five stars. The Vauxhall's lower score can partly be explained by the fact that despite being marketed as all-new, its main structure is largely the same as the previous model, which made its debut back in 2006.
Still, the Corsa has as much safety kit as most same-era competitors, including six airbags, electronic stability control, tyre pressure monitoring and Isofix points for child seats. One feature notably lacking, however, is automatic low speed braking, which is becoming increasingly common, even in small cars, while the optional Driving Assistance Pack (which added front collision warning and lane departure warning) was deleted from the later 2019 models. 
What's it like to drive?
While it's not as engaging to drive as some of its similar-age rivals, the Corsa is an impressively refined and comfortable choice. It's also backed by a wide range of engines, with the small petrol in particular serving up strong performance and exceptional smoothness.
Engines and performance
The Corsa started out with a bewildering range of engines that often overlapped in terms of size and performance, but by the end of its production run there were just two petrol engines to choose from. Both were naturally aspirated 1.4-litre units and they share a similarly breathless character, with either 74bhp or 89bhp.
The best unit was the turbocharged 1.0-litre three-cylinder which appeared in 2014 but was discontinued in 2019. Available with either 89bhp or 113bhp it's smooth and responsive, giving the Corsa warm hatch performance and big car refinement. Unlike many contemporary rivals it was paired with a six-speed manual gearbox which helped deliver brisk overtaking pace and a long-striding top gear for long motorway journeys.
Sitting at the bottom of the range was the familiar 1.2-litre unit that was carried over from the old car. Mustering just 69bhp it needed a glacial 15.5 seconds to cover the 0-62mph sprint. It's smooth enough but feels out of its depth on the open road.
Black Edition and GSi models came with a 148bhp version of the 1.4-litre turbo, which is notably stronger than the lower-powered 98bhp version that was briefly available in lower specification models, and negates the need to stamp on the accelerator when going up hills or overtaking. Its 220Nm of torque helps the Corsa to a 0-62mph time of 8.9 seconds.
The 1.3-litre diesel was the most frugal engine in the Corsa, but it feels heavier in the nose. It was available in two power outputs – 74bhp and 94bhp – both with 190Nm of torque. With 14.8 and 11.9-second 0-62mph sprints respectively, they're not built for high performance and tend to rattle and chug in a manner typical of four-cylinder diesel units.
For ultimate performance there was the VXR, which packed a 202bhp turbocharged 1.6-litre four-cylinder petrol engine. It can humble much more powerful machines with an impressive 0-62mph sprint of 6.5 seconds and a 143mph top speed.
On the road 
The fourth-generation Corsa looks similar to its predecessor, but Vauxhall re-engineered a substantial proportion of the supermini's running gear to ensure it could compete with the similar-age Fiesta when it came to driver engagement. Sadly, it still couldn't quite match the Ford – but it was closer than ever.
Underneath, the basic platform from the previous-generation Corsa was carried over, but Vauxhall  bolted on a new suspension set-up, which improved the ride considerably and gave better body control.
Crucially the Vauxhall was set up specifically for UK roads, so while it still feels a little nervous on the motorway and is slightly juddery at times, it makes up for that with fast responses on twisty roads. Turn-in is quick, there's plenty of grip and while a little body roll is present, the Corsa generally feels stable and sure-footed.
Around town, the City steering mode (standard on every model) makes the wheel extremely light for parking. The mode disengages at speeds above 30mph to deliver a more natural feel – although there still isn't a great deal of feedback to tell you what the front wheels are doing.
Just as important, the suspension soaks up low-speed bumps well – a little better than the equivalent Ford Fiesta. In fact, there's a feeling of quality and solidity to the Corsa on the move, especially the gearbox, which is light and precise. We'd avoid the Easytronic automatic gearbox, though – it's an automated manual. Unlike a full automatic it doesn't have a negative effect on fuel economy, but its slow and jerky changes make it less enjoyable to drive.
Despite its wild performance and looks, the VXR never quite lived up to its on-paper promise. An overly firm ride and slightly lead-footed handling means it can't hold a candle to the similar-age Ford Fiesta ST when it comes to driver fun.
What should you look out for?
Overall the Corsa is fairly robust and should deliver trouble-free motoring. Build quality is good and the engines are tried and tested units from the rest of the Vauxhall range. However, many are first-time cars, so check carefully for signs of abuse and make sure there's plenty of service history. There are also some common quirks that you need to keep an eye out for.
Common used Vauxhall Corsa problems
Rear seats
All Corsas have three rear seatbelts, but some get only two head restraints in the back, so watch out for this if you often travel five up.
Wheel sizes
Whereas the entry-level Corsa Life came with 14-inch steel wheels in petrol form, the diesel got 15-inch wheels.
Infotainment
Some owners have had problems streaming music from their phones via a USB cable; Bluetooth is reportedly more reliable.
Recalls 
This generation of Corsa has been recalled seven times. Faulty steering racks led to the first campaign in August 2015; further steering issues led to a second recall in December 2015, this time for a faulty joint between the steering and suspension. The third recall, in February 2017, was for poorly made steering racks.
Faulty curtain airbags caused the fourth recall, in March 2017, while handbrake failures led to another action in the same month; in some cases, the handbrake lever was fitted with a faulty ratchet. The bonnet opening during driving was the reason for the sixth recall, in October 2018, then in April 2019 came the most recent campaign, where almost 54,000 cars were recalled because of a faulty lambda sensor, resulting in increased exhaust emissions.