Best used family cars
The Vauxhall Insignia Grand Sport is the best used family car in our Used Car Awards 2020
Best used family car: Vauxhall Insignia Grand Sport
Our pick: Vauxhall Insignia Grand Sport 2.0 Turbo D SRi VX-Line Nav (2018/67, 43k miles, £10,900)
Badge snobs really are missing a trick. The previous-generation Vauxhall Insignia took top honours in this category in our 2018 Used Car Awards, but with prices as low as £7,000, its replacement, the newer Insignia Grand Sport, has taken over the reins.
It's not hard to see why, either. The Grand Sport is, in the right spec, a very good-looking car, with low-slung, sleek looks. Not that this impacts interior space, which is best described as 'vast'; it's so big, in fact, that Vauxhall has recently dropped its estate sibling.
There's a huge amount of space in the back, which makes it easy to install kids into child seats, and the hatchback bodystyle ignored by premium rivals makes it a cinch to chuck bikes, buggies and beach towels into the 490-litre boot.
Interior quality is good on the whole, and buyers aren't short-changed when it comes to equipment. There's a bewildering array of trims to choose from, which is a blessing and a curse. But as a guide, mid-spec models such as SRi, SRi Nav or Tech Line strike the best balance between cost and kit.
We'd ignore the entry-level Design trim, because with prices like this, you can afford to, but all models get Apple CarPlay and Android Auto, alloy wheels, LED tail-lights and cruise control.
The 1.6 and 2.0-litre diesel engines are strong in any output, and the pair of 1.5 turbo petrols hustle the big hatchback along far more easily than you might expect. There's also a 257bhp GSi version, but even though prices are tumbling, that particular model is still too expensive to recommend. Whichever Insignia you choose, it'll ride smoothly and should be refined, making it an excellent choice for family motoring.
Finance options
Welcome to the half-price Insignia. This car is barely two years old, but finance will cost you just £241 per month compared with £477 for a new equivalent – even with interest-free credit. Over the three-year contract, the used model from BuyaCar.co.uk will save £8,496. And if you want to own the car at the end of the contract, the final payment for the second-hand car is also much lower, at a more affordable £6,076.
Commended
Skoda Superb Mk3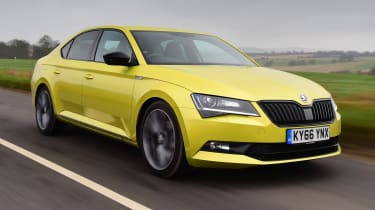 The hatchback version of the Superb excels in all the same areas as the Estate, but it can't quite keep pace with the Vauxhall's value, even if it does trump it for space and quality. The Superb is also comfortable and is offered with a good range of petrol and diesel engines.
Left-field choice
Saab 9-3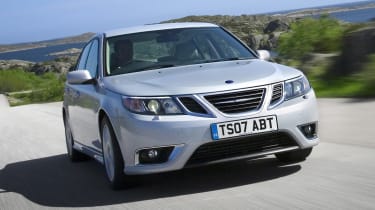 Do interesting, stylish and left-field family cars come any cheaper than the Saab 9-3? Low-mileage, last-of-the-line cars cost around £5,000, but there are hundreds for less than half that. Diesels are pretty economical, but Saab is synonymous with turbos, so a 2.0T in Aero trim is a desirable choice.