'Volkswagen needs to sell a £5k car in Britain'
The Geneva Motor Show showed us that new models are too expensive and something needs to be done about it, says Mike Rutherford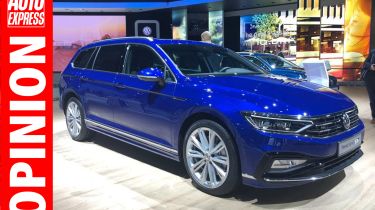 Personally, professionally and spiritually, the Geneva Motor Show is the only place to be for someone in my line of 'work' in early March. If you consider yourself committed petrol, diesel, LPG, electric or hydrogen head, you should be there, too.
Believe it or not, you could pop over and back in 18 hours for far less money than you might imagine. Hurts me to admit this, but it's considerably cheaper and more convenient to take the plane than the car. The fact that the show venue is a 10-minute stroll from Geneva Airport is another compelling reason to fly.
• Geneva Motor Show 2019 round-up
This year, most of the exhibitors deeply impress – none more so than the VW Group and its battalion of mid-to-upmarket brands, which barrack themselves away on the highest floor of the event, looking down on their rivals. Others at the Swiss show (Sbarro, for example) make me chuckle. But the absence of JLR and its hugely important all-new Evoque almost brings me to tears. A motor show minus Jaguars and Land Rovers is like battered cod without chips.
And it saddens me more that the word which best sums up the just-arrived, soon-to-be-launched or distant-future models at Geneva 2019 is 'expensive'.
Can the motoring masses in Britain and the rest of the world afford most of Geneva's 'star cars'? No chance. When a likely £25k price is mentioned for Honda's humble electric e Prototype, real-world customers know they're being priced out of the new car market.
So I was pleasantly shocked to hear that the VW Group is proceeding with a bargain-bucket car that will massively undercut SEAT and Skoda, the lowest-priced (but not low-price) marques in its current stable. We're talking about a globally significant vehicle group making noises about bolting together and selling proper, basic, inexpensive, Asian-built cars – mainly for inevitably skint young people, but with low-paid older folk and retirees in mind, too. The likes of TATA (with the Nano) and Datsun (Go) have dabbled with this sort of car but with limited success, and not much global relevance.
The VW Group is – for now at least – talking only about its cheapomobile being sold to Chinese buyers, and that will discriminate against the rest of us. VW must widen this car to other, less-than-flush parts of the world. Britain included. It also needs to change the name of its new brand from Jetta to something that does what it says on the tin. I reckon the LIM (Less Is More) or FTB (First Time Buyer) marque should be a beyond-China brand, sitting below SEAT and Skoda, at an end of the market VW Group currently refuses to serve.
Today, it's difficult to find a new Skoda, SEAT or VW for under £10,000. And there's further bad news, because that important barrier will soon be breached. All the more reason why a slow, safe, stripped-out, steel-wheeled, shabby-chic 'starter' car for nearer £5k (and with Group 1 insurance) is desperately needed. And no, that just-unveiled Twizy-lookalike from SEAT is not that car. Mainly because it's a quadricycle, as far as I can tell.
C'mon, Wolfsburg – bite the bullet and build the affordable Car for the People, of China and of the rest of the world. You could even base it on a previous-generation Polo.
Do you agree with Mike? Let us know in the comments below...