Volkswagen Amarok Canyon review
New Volkswagen Amarok Canyon adds 19-inch alloys, extra body cladding and optional spotlights
If you're after an alternative to a large SUV, don't choose the Volkswagen Amarok Canyon. It may be a luxurious and stylish pick-up, but it's still a commercial vehicle and feels unrefined compared to something like a Hyundai Santa Fe. If you're buying it as a workhorse then we'd definitely recommend it – it's nice to have creature comforts in a practical and rugged package.
The Volkswagen Amarok was introduced in 2011 as a pick-up that felt more car-like any other. This new Canyon version – limited to just 350 units – is designed to bring even more style and luxury to the class.
A mid-spec Trendline Amarok is used as a starting point for the Canyon, which is then packed with £8,500 worth of extras, like 19-inch alloys, all-round parking sensors, privacy glass, leather interior, heated front seats and rugged body cladding. If you want those four spotlights mounted on the roof, you'll have to pay £1,134.
The only engine on offer is a 178bhp 2.0-litre BiTDI with permanent all-wheel drive. A six-speed manual is standard, but for £2,000 extra you can get an eight-speed auto, like in this car. It also ups the towing capacity from 3,000kg to 3,200kg.
We never expected blistering performance, but the acceleration is impressive nonetheless. The Canyon takes 11.3 seconds to get from 0-62mph and it does a good job of disguising just how big and heavy this car is. It's a bit gruff when you turn the key and it continues to make its presence known while you're accelerating. Add the less-than-aerodynamic shape and huge wing mirrors and it's not the most refined motorway cruiser.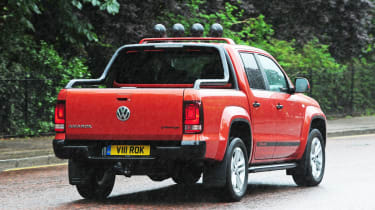 Yet, what remains most impressive about the Amarok, given its size, is its car-like manners from behind the wheel. That's not to say it's as sophisticated as a modern day SUV, but the light controls make it easy to drive, plus a cabin which mimics those of conventional VW passenger cars makes you feel at home inside. In turn, it gives the impression that you're driving a much smaller car. The ride is also a lot more forgiving in the Amarok than in other pick-ups.
Another area where the Amarok scores highly is practicality. In the UK it's only available as a double cab, meaning you can carry five adults with little fuss. The Canyon's load bed is larger than the one offered in both the Ford Ranger and Toyota Hilux, and it's wide enough to carry a euro-sized pallet. There's space in the back seats for adults, too.