Volvo V40 D4 review
New Volvo V40 D4 impresses with huge reductions in emissions
Dirtier performance diesels like the SEAT Leon FR and BMW 120d are more fun to drive than the Volvo V40 D4, so we'd still opt for the lesser V40 D2. But as a showcase for green values with plenty of punch, we take our hats off to Volvo's new engine and look forward to seeing it in future cars.
Since the army of new VW Group cars based on the MQB platform stormed the family hatch market – from the Skoda Octavia and SEAT Leon to the VW Golf and Audi A3 – it's been easy to forget Volvo's alternative, the V40.
Focused on comfort and safety, the Volvo V40 is a likeable and stylish car that had, until now, been hamstrung by outdated engines. But this new D4 turbodiesel variant promises to fix that.
It's a 2.0-litre four-cylinder, part of the new Drive-E engine family that'll see service across Volvo's range – even featuring in the flagship XC90. And its vital stats catapult the V40 into the sharp end of the fast, frugal diesel class, right up there with the Golf GTD. This version develops a meaty 188bhp and 400Nm of torque: that's 10bhp more than the old, five-cylinder engine.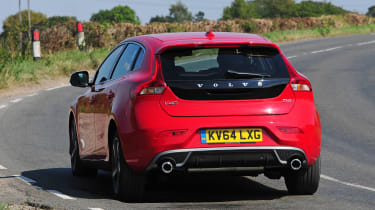 The smaller engine also sheds a handy 30kg of weight. It's nine-tenths faster from 0-62mph – now taking 7.4 seconds – but the real boon of this downsized engine is its potential fuel economy. Consumption is said to be improved from 64.2mpg to 74.3mpg, while CO2 emissions have plummeted three tax bands from 117/km to 99g/km.
Such stellar frugality and cleanliness would be commendable in an entry-level diesel model. But with superior outputs to a Golf GTD hot hatch, the D4's blend of power and economy is downright remarkable. Our test car averaged mid-50s mpg under normal driving conditions and would easily crack the mid-60s with a bit of running in and some careful motorway cruising.