Volvo XC60 vs Audi Q5 vs Mercedes GLC
Cool new Volvo XC60 aims to hit the heights of the larger, seven-seat XC90 SUV. We see how it fares against the Audi Q5 and Mercedes GLC
The previous XC60 was one of Volvo's biggest-selling cars, and actually saw growing sales in the last years of its life – where most models will slowly decline.
That highlights the continuing growth in popularity of premium SUVs, as buyers line up to get into family cars offering loads of space, chic styling and plush interiors packed with tech and efficient engines. But bosses haven't taken those sales for granted, and have launched an all-new XC60 on the advanced SPA large car platform. That means the car also offers hybrid power, although for now most buyers will go for a diesel model.
• Best 4x4s and SUVs on sale right now
We've lined up the Mk2 XC60's key rivals, the Mercedes GLC and Audi Q5, to see if the Swedish newcomer has what it takes to beat the Germans. All three cars are aimed at drivers looking for comfort, convenience and advanced, hi-tech features rather than pure driving thrills.
The ageing outgoing XC60 was a little behind on technology, style and interior quality, but Volvo has been working hard on those areas with the new car – so can it take the win here?
Volvo XC60
| | |
| --- | --- |
| Model: | Volvo XC60 D4 AWD R-Design |
| Price: | £39,705 |
| Engine: | 2.0-litre 4cyl turbodiesel |
| Power: | 187bhp |
| 0-60mph: | 9.0 seconds |
| Test economy: | 39.4mpg/8.7mpl |
| CO2: | 136g/km |
| Annual road tax: | £140 |
The Volvo XC60 is offered in three main trim levels – Momentum, Inscription and R-Design – although all have a 'Pro' variant aimed at fleet buyers. Our pictures show a Momentum model, but we test the sportier R-Design with the brand's D4 diesel engine, which costs £39,705.
Bumpy British roads provide a tough test for cars like these, but the XC60 tackles this sort of tarmac with a respectable level of composure.
In the suspension's Comfort mode, body control is good, keeping the car stable but offering enough movement to help comfort. However, you will notice big bumps in the road surface on torn country lanes, especially when cornering as the suspension is loaded up.Here the XC60 feels more jittery and unsettled, but around town and on the motorway the Volvo delivers a decent level of refinement, even if it still isn't as quiet as the GLC.
None of our trio is particularly sporty, but the XC60 does have quick, light steering and lots of grip. It feels more agile than the GLC, but the Mercedes' steering is heavier and gives the car a more solid feel.
The 2.0-litre D4 diesel matches the Audi's 187bhp, although it falls slightly behind the GLC 250 d's 201bhp figure. It was the slowest car in our acceleration tests at the track; the Volvo sprinted from 0-60mph in nine seconds flat, which lagged behind the lighter Audi's 8.2-second time.
The gap was closed during our 30-70mph in-gear acceleration test, where the XC60 took just 8.3 seconds; two tenths longer than the Audi. The more powerful GLC was more than a second quicker.
All of our cars have plenty of power, though, and you don't need to rev them too hard to make progress. If you do, the Volvo's refinement only starts to break down at higher revs, where a diesel drone comes through in the cabin. Keep a lid on this and the eight-speed auto manages the engine's revs well, changing smoothly and kicking down quickly with decent response if you need a burst of acceleration.
Testers' notes: "The Q5's appeal is in its classy cabin that packs plenty of tech – even if a lot of this is optional. We'd have liked to try a car on air suspension to see how it compared here."
Audi Q5
| | |
| --- | --- |
| Model: | Audi Q5 2.0 TDI quattro S line S tronic |
| Price: | £41,085 |
| Engine: | 2.0-litre 4cyl turbodiesel |
| Power: | 187bhp |
| 0-60mph: | 8.2 seconds |
| Test economy: | 38.3mpg/8.4mpl |
| CO2: | 133g/km |
| Annual road tax: | £450 |
The latest Audi Q5 arrived in the UK earlier this year, and just like the XC60 it features a new platform designed to deliver better refinement and more quality than the car it replaced. Here we test the £41,085 2.0 TDI S line model.
The Audi's four-cylinder 2.0-litre diesel is closely matched with the Volvo's, as it produces the same 187bhp and 400Nm of torque. But both are a bit behind the Mercedes' more powerful 2.1-litre.
The engine is quiet and doesn't need to be revved hard to get the best out of it, especially as the torque spread is the widest of all three cars: that 400Nm maximum is available from 1,750 to 3,000rpm.
It's quicker than the Volvo, too, and our tests showed that it covered 0-60mph eight tenths faster than the XC60. It trailed the punchier Mercedes by a few tenths, though, posting a time of 8.2 seconds.
The Audi's weight advantage over the other cars on test should mean that it's more agile – but while that's true to some extent, it's still not the Q5's strongest point because the steering is too vague. There's lots of grip, but although the ride is on the firm side, damping bumps in fast bends with more control than the Volvo, it lacks both rivals' softer, more composed edge on smoother, flowing surfaces.
Still, it is quiet on the move. A more unsettled ride at higher speed means it's not as comfy as the XC60 or GLC over longer distances – although larger wheels on higher-spec cars affect this less than on the Volvo.
Testers' notes: "The Q5's appeal is in its classy cabin that packs plenty of tech – even if a lot of this is optional. We'd have liked to try a car on air suspension to see how it compared here."
Mercedes GLC
| | |
| --- | --- |
| Model: | Mercedes GLC 250 d 4MATIC AMG Line |
| Price: | £41,070 |
| Engine: | 2.1-litre 4cyl turbodiesel |
| Power: | 201bhp |
| 0-60mph: | 7.9 seconds |
| Test economy: | 37.7mpg/8.4mpl |
| CO2: | 129g/km |
| Annual road tax: | £450 |
The Mercedes GLC is available with two four-cylinder diesels: the 168bhp 220 d and this 201bhp 250 d. It's more powerful than the Volvo XC60 D4 and Audi Q5 2.0 TDI, and in AMG Line trim it costs £41,070.
Thanks to its air suspension system's softer set-up, the Mercedes is the most comfortable car of the three on test here, reacting to bumps in the road with more fluidity than the XC60 or firmer Q5.
Body control is on the looser side, however, but this means where the Volvo and Audi transmit some harshness through to the passenger compartment over the worst surfaces, the Mercedes filters out more nasty wheel movement.
However, even in Sport+ mode, which stiffens up the chassis settings, the GLC's set-up is still the softest, which allows more roll through corners.
It means the Mercedes is the least agile choice, while the steering is also the heaviest, and in this setting you lose the languid ride but don't gain much else. This trait at least makes it extremely comfortable on the motorway, but turn off on to a country road and you won't be able to keep pace with the Volvo or Audi, which feel sportier.
The GLC offers the strongest straight-line performance here. With 201bhp it's a little more powerful than its rivals, but the extra 100Nm of torque available lower down in the rev range means it feels more muscular and was quicker on test.
It took 7.2 seconds to go from 30-70mph through the gears, which is nearly a second quicker than its rivals here, but in gear it's much closer. It accelerated between 50 and 70mph in 5.8 and 7.2 seconds in sixth and seventh gears respectively.
Mercedes' nine-speed auto box is also a great performer, shifting very smoothly in normal driving, even if it can't match the dual-clutch Audi in manual mode. But it's the smoothest set-up here, and the extra ratio over its competition helps when cruising, where the noisier diesel's revs are lower.
Testers' notes: "Mercedes offers a £495 off-road pack, but only on Sport models. The Audi and Volvo are fitted with equipment such as hill descent control as standard."
Verdict
First place: Volvo XC60
The Volvo earns the win with its kit, price and blend of comfort and performance, although the margin of victory isn't big. It's great value and will be the cheapest car of this trio to run, yet it doesn't sacrifice quality. It's also fast enough and nicely refined, while the chassis and steering offer good agility. The XC60 follows on from the XC90, offering plenty of all-round appeal for a family SUV.
Second place: Mercedes GLC
While the GLC is easily the most comfortable model here, it doesn't handle as well as the XC60 or Q5 and is showing its age. It's refined and surprisingly quick, while there's plenty of space, but it lacks the more modern cabin and tech of its rivals. Strong efficiency helps its case, although buyers demand more innovation in this sector, and it's here where the Mercedes is found wanting.
Third place: Audi Q5
The margins in this class are extremely tight. While there's no faulting the Q5 when it comes to quality or technology, and the car's agility and performance are certainly impressive, it simply isn't as comfortable as the competition, which matters more here. The Audi will resist depreciation well, but PCP deals mean this is less important, while it features less standard kit than the XC60, too.
Other options in this category...
Jaguar F-Pace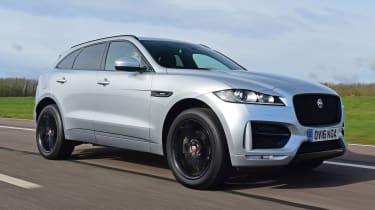 Model: Jaguar F-Pace 2.0d 180 R-Sport Price: £41,330Engine: 2.0-litre 4cyl, 178bhp
The F-Pace is the driver's SUV. It's more agile and responsive than any of our contenders, and while it's also a little more expensive, it's still very practical, with an even larger 650-litre boot.
Land Rover Discovery Sport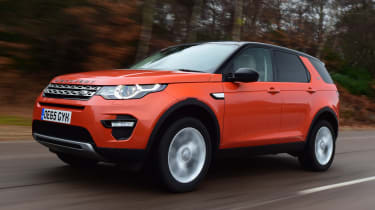 Model: Land Rover Discovery Sport TD4 HSEPrice: £40,140Engine: 2.0-litre 4cyl, 178bhp
Land Rover is synonomous with luxury SUVs, and the Discovery Sport offers versatility and upmarket appeal. Thanks to its 5+2 seating layout it's extremely practical and offers something different compared with these 4x4s.
Figures
| | | | |
| --- | --- | --- | --- |
| | Volvo XC60 D4 AWD R-Design | Mercedes GLC 250 d 4MATIC AMG Line | Audi Q5 2.0 TDI quattro S line S tronic |
| On the road price/total as tested | £39,705/£50,730 | £41,070/£49,085 | £41,085/£45,210 |
| Residual value (after 3yrs/36,000) | £21,000/52.9% | £21,599/52.6% | £22,626/55.1% |
| Depreciation | £18,705 | £19,471 | £18,459 |
| Annual tax liability std/higher rate | £2,288/£4,576 | £2,206/£4,412 | £2,286/£4,573 |
| Annual fuel cost (12k/20k miles) | £1,620/£2,700 | £1,693/£2,822 | £1,666/£2,777 |
| Insurance group/quote/road tax cost | 31/£828/£140 | 34/£1,191/£450 | 29/£848/£450 |
| Cost of 1st/2nd/3rd service | £295/£430/£370 | £35 per month (3yrs) | £266/£471/£319 |
| | | | |
| Length/wheelbase | 4,688/2,865mm | 4,656/2,873mm | 4,663/2,819mm |
| Height/width | 1,658/1,999mm | 1,639/1,890mm | 1,659/1,893mm |
| Engine | 4cyl in-line/1,969cc | 4cyl in-line/2,143cc | 4cyl in-line/1,968cc |
| Peak power/revs | 187bhp/4,250rpm | 201bhp/3,800rpm | 187bhp/3,800rpm |
| Peak torque/revs | 400Nm/1,750-2,500rpm | 500Nm/1,600-1,800rpm | 400Nm/1,750-3,000rpm |
| Transmission | 8-spd auto/4wd | 9-spd auto/4wd | 7-spd dual-clutch/4wd |
| Fuel tank capacity/spare wheel | 60 litres/£150 | 50 litres/sealant kit | 65 litres/£175 |
| Boot capacity (seats up/down) | 505/1,432 litres | 550/1,600 litres | 550/1,550 litres |
| Kerbweight/payload/towing weight | 1,802/664/2,400kg | 1,845/655/2,500kg | 1,770/670/2,400kg |
| Turning circle/drag coefficient | 11.4 metres/0.32Cd | 11.8 metres/0.32Cd | 11.7 metres/0.26Cd |
| Basic warranty (miles)/recovery | 3yrs (60,000)/3yrs | 3yrs (unltd)/30yrs | 3yrs (60,000)/3yrs |
| Service intervals/UK dealers | 18,000 miles (1yr)/192 | 15,500 miles (1yr)/147 | Variable/118 |
| Driver Power manufacturer/dealer pos. | 7th/16th | 21st/12th | 18th/15th |
| NCAP: Adult/child/ped./assist/stars | N/A | 95/89/82/71/5 | 93/86/73/58/5 |
| | | | |
| 0-60/30-70mph | 9.0/8.3 secs | 7.9/7.2 secs | 8.2/8.1 secs |
| 30-50mph in 3rd/4th | 3.5/4.6 secs | 2.7/3.3 secs | N/A/3.3 secs |
| 50-70mph in 5th/6th/7th/8th | 5.9/6.9/9.3/12.5 secs | 5.3/5.8/7.2/10.5 secs | 5.1/8.7/18.6s/N/A |
| Top speed/rpm at 70mph | 127mph/1,900rpm | 138mph/1,500rpm | 135mph/1,600rpm |
| Braking 70-0/60-0/30-0mph | 53.0/36.4/11.5m | 52.6/42.2/13.3m | 47.8/33.0/9.7m |
| Noise outside/idle/30/70mph | 51/72/62/70dB | 76/52/62/71dB | 51/69/62/68dB |
| Auto Express econ (mpg/mpl)/range | 39.4/8.7/520 miles | 37.7/8.4/415 miles | 38.3/8.4/548 miles |
| Govt urban/extra-urban/combined | 48.7/58.9/54.3mpg | 51.4/60.1/56.5mpg | 52.3/57.6/55.4mpg |
| Govt urban/extra-urban/combined | 10.7/13.0/11.9mpl | 11.3/13.2/12.4mpl | 11.5/12.7/12.2mpl |
| Actual/claimed CO2/tax bracket | 192/136g/km/29% | 201/129g/km/27% | 198/133g/km/28% |
| | | | |
| Airbags/Isofix/park sensors/camera | Seven/yes/yes/£375 | Seven/yes/yes/yes | Six/yes/yes/£450 |
| Auto box/stability/cruise control/AEB | Yes/yes/yes/yes | Yes/yes/yes/yes | Yes/yes/yes/yes |
| Climate control/leather/heated seats | Yes/yes/yes | Yes/£795/yes | Yes/yes/yes |
| Met paint/LED lights/keyless entry & go | £650/yes/yes | £685/yes/yes | £645/yes/yes |
| Sat-nav/USB/DAB radio/Bluetooth | Yes/yes/yes/yes | Yes/yes/yes/yes | Yes/yes/yes/yes |