Manufacturers: 30 - 21
The bottom of our Driver Power top 30 manufacturers must try harder to keep owners satisfied with their cars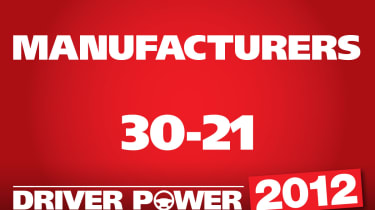 30. Fiat
Overall rating: 79.86%2011 ranking: 32
Propping up the Driver Power 2012 manufacturers' chart is Fiat. There was a slight improvement in how customers ranked its cars this year, but the company won't take much comfort from that as it still scored bottom marks overall in the performance, handling and comfort categories, and came second last for reliability and build quality. What really confirmed Fiat's position at the bottom, though, was its dealer service – owners who took part in our survey rated this as poor across the board. Things can only get better in 2013.
29. Smart
Overall rating: 80.41%2011 ranking: 33
A climb of four places in the chart for Smart doesn't sound quite so impressive when you consider that we've trimmed our Driver Power manufacturer ranking to a top 30 this year. We reported on how owners criticised the ForTwo city car in our Top 100 countdown in Issue 1,212, and 29th position looks even worse given that Smart topped the running costs category. A host of poor scores elsewhere drags the company down the table, with wooden spoons for ride quality and technology particular sore points. The raft of planned new models can't come soon enough.
28. Peugeot
Overall rating: 81.00%2011 ranking: 30
Last year, Peugeot clawed its way up from bottom of the table to 30th. And in 2012, it's climbed a little higher – so the brand is slowly heading in the right direction. As with owners of cars from rival Renault (in 27th), Peugeot drivers are clearly disappointed by their models' reliability and build quality – they scored third worst in this category. Braking, handling, practicality and comfort aren't much better, you tell us. The company can at least take some pride in the improvement in dealer service you've reported over the past 12 months.
27. Renault
Overall rating: 81.18%2011 ranking: 24
All the gains Renault made in 2011 have been lost again, as it slips back to the lowly 27th position it occupied in the manufacturer chart in 2010. It's easy to see what bugs you most about the company's cars: they picked up the worst score of any manufacturer in the build quality and reliability, technology and ease of driving categories. Renault has to address this criticism – and also look to improve the disappointing service provided by its dealers – before it can hope to move away from the bottom end of the table.
26. Suzuki
Overall rating: 81.56%2011 ranking: 31
Signs of improvement from Suzuki, which was languishing outside the top 30 manufacturers in Driver Power 2011. There's still plenty of work to do, though. Owners rounded on the company's cars, with performance, handling, practicality and comfort all coming in for harsh criticism. Suzuki also picked up the worst score of any maker for braking. It's clear the brand would be even further down our chart if it wasn't for the impressive service provided by its dealer network.
25. Ford
Overall rating: 81.64%2011 ranking: 20
Britain's number one seller still has a long way to go to be the nation's top-performing car marque. After climbing four places in 2011, Ford has slipped back down to the mid-twenties. Its cars picked up below-average scores in every category, apart from handling and practicality, while its huge network of 700-plus UK dealers was rated as below par. This should be a wake-up call for the company. As mass-market competitors like Vauxhall raise their game, Ford needs to do the same if it wants to keep its place at the top.
24. SEAT
Overall rating: 81.81%2011 ranking: 14
Last year, SEAT was a contender for the top 10 of our manufacturer chart, but it's clearly the biggest loser in 2012, tumbling 10 places down the chart. The company put in a poor performance all-round, with the running costs and ride quality of its cars being slated by owners. But you also told us its garages underperformed in every area – and the combination of the two puts a severe dent in SEAT's hopes of repeating VW Group sister brand Skoda's success in Driver Power.
23. Alfa Romeo
Overall rating: 81.87%2011 ranking: 25
A slight improvement for Alfa Romeo can't mask some worrying underlying problems. Its cars impressed you in some areas – and a seventh place finish for performance is commendable. But you found the company's product wanting in several other categories, ranking it sixth worst for ride quality and third worst for practicality. The results of our Driver Power survey shocked Alfa into action on its dealer service a few years ago, and there were signs of improvement in 2011. But we're sad to say that the dealer ranking has dragged the overall score down again in 2012.
22. Citroen
Overall rating: 82.00%2011 ranking: 19
Things were looking up for Citroen in Driver Power 2011, when it climbed an impressive seven places in our manufacturer chart. But it's fallen back again this year, and you've made no secret of what's bugging you. The company's cars were ranked worst for handling, plus fourth worst for performance and reliability and build quality. The only silver lining is a marginal improvement in the performance of its dealers. But Citroen needs to do a lot more if it wants to move up to mid-table next year.
21. MINI
Overall rating: 82.24%2011 ranking: 23
There's good and bad news hidden behind MINI's two-place climb up the manufacturer table this year. The good news is that you rate the BMW-owned company's dealers more highly in 2012. The bad news is that the cars themselves are continuing to disappoint – reflected by the first version of the reborn hatch's 80th place in the Top 100. You rank MINIs as the worst for practicality and second worst when it comes to technology, while it finishes fourth worst in the ride quality and comfort categories.