Best cars: 50 to 41
It's a big drop for the Audi TT but good news for Toyota in 2012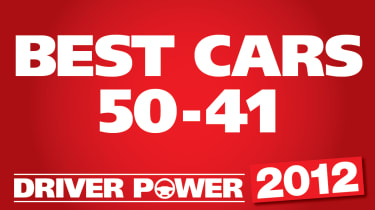 50. Audi TT MkII 
Overall rating: 84.96%Years of manufacture: 2006-presentPrevious results: 2007/NR 2008/NR 2009/28 2010/19 2011/22
Is the TT a case of style over substance? Audi will be keen to get some answers after the fashionable two-seater coupé and roadster tumbled 28 places down the chart. The biggest reason for this drop seems to be the introduction of the new technology category, where the Audi is judged to be too basic by today's standards. On the plus side, drivers love the sporty performance and sharp handling, safe in the knowledge that the TT is superbly built and very reliable.
49. Toyota Yaris MkII 
Overall rating: 85.01%Years of manufacture: 2005-2011Previous results: 2007/NR 2008/18 2009/46 2010/38 2011/81
Listen carefully and you might hear a collective sigh of relief from everyone at Toyota HQ. The company will have struggled to come to terms with the Yaris's 81st place in Driver Power 2011, but the supermini seems to have redeemed itself. Although 49th is still far from sparkling, the car performs well for a model that's just been replaced. An excellent 11th place for build and reliability will serve the Yaris well on the used market, where low running costs and durability matter above all else.
48. Volkswagen Golf MkV 
Overall rating: 85.02Years of manufacture: 2004-2008Previous results: 2007/9 2008/16 2009/22 2010/27 2011/37
Quality, durability, reliability – surely these are the cornerstones of any Volkswagen? Perhaps not this one. The previous-generation Golf has failed to maintain its popularity with drivers, who have awarded sub-standard scores for reliability and build, running costs and technology. The result is a drop down into mid-table mediocrity for the family hatch. It would have finished even lower had it not achieved decent performance and braking scores. Thankfully, the MkVI Golf is further up the chart…
47. Vauxhall Zafira MkII 
Overall rating: 85.06%Years of manufacture: 2005-presentPrevious results: 2007/51 2008/54 2009/NR 2010/90 2011/47
The Zafira finished in a shocking 90th place in Driver Power 2010, but this year it's managed to reclaim the 47th position it recorded in 2011. The more stylish Vauxhall Zafira Tourer now caters for drivers who want a cutting-edge compact MPV, so the old-style model soldiers on with a down-to-earth approach to people moving. The key to its appeal is its practicality – good enough for 17th place. Add in decent reliability and strong brakes, and the Zafira can still make a good case for itself.
46. BMW 3 Series MkIV 
Overall rating: 85.07%Years of manufacture: 2005-2011Previous results: 2007/15 2008/21 2009/21 2010/26 2011/35
Great to drive but not so hot as a family car – that's the verdict of BMW 3 Series drivers. A brilliant sixth place in the handling chart complements ninth for braking and 13th for performance to give the recently replaced compact executive the dynamic ratings of a sports car. However, the positive feeling in the driver's seat is best experienced without a full load of people or luggage – a hard ride and lack of practicality have held the BMW back. We can't wait to see where the all-new model finishes next year.
45. Nissan Note 
Overall rating: 85.30%Years of manufacture: 2004-presentPrevious results: 2007/44 2008/44 2009/75 2010/59 2011/32
A redesign in 2009 helped the Note climb the Driver Power chart last year, but 2012 has seen Nissan's supermini-MPV make a U-turn and head back down the rankings. The good news is that buyers love the well equipped cabin's advanced technology, and have found running costs to be in keeping with what's expected of a car in this class. Unfortunately, a lack of cabin comfort, bumpy ride and sluggish handling have detracted from the overall package.
44. Ford Kuga 
Overall rating: 85.37%Years of manufacture: 2008-presentPrevious results: The Kuga hasn't appeared in previous surveys
With the covers only just off the next Kuga, the current model remains a strong contender in the compact SUV market. Handling and comfort are its key strengths, plus it scores well for ride quality, so Ford's engineers should be congratulated for proving you can have an agile car without resorting to rock-hard suspension. However, there are other areas that the all-new Kuga needs to address – 68th place in the reliability and build chart is a disappointment, as is 72nd for practicality.
43. Volvo V50 
Overall rating: 85.49%Years of manufacture: 2004-presentPrevious results: 2007/44 2008/45 2009/78 2010/50 2011/24
Starring on the Volvo stand at this year's Geneva Motor Show was the all-new V40, which is set to replace both the S40 and the V50. Let's hope it apes its estate-bodied predecessor in one area – cabin comfort. A fine fifth place shows that the V50's seats are superbly contoured, its steering wheel and pedals are perfectly positioned and its ergonomics are first class. So what has led the Volvo to 43rd position? The culprit is an inexcusable 81st place in the reliability and build category.
42. Mercedes C-Class MkIII 
Overall rating: 85.51%Years of manufacture: 2008-presentPrevious results: 2007/NR 2008/NR 2009/NR 2010/14 2011/15
Just when it looked like Mercedes' compact executive was establishing itself as a contender for the Driver Power Top 10, it's nose-dived 27 places down the chart. A lack of practicality from the C-Class saloon and estate range has proven difficult for owners to put up with, as have some bigger than expected bills. Even more concerning is the car's 59th place finish in the reliability and build category, which doesn't sit well with Mercedes' reputation for high quality.
41. Alfa Romeo MiTo 
Overall rating: 85.57%Years of manufacture: 2009-presentPrevious results: The MiTo hasn't appeared in previous surveys
It's one of the most stylish models in its class, but the MiTo needs more than good looks to achieve a strong Driver Power position. Thankfully, its talents are more than skin deep. A fantastic fifth place for performance shows that the engines are hitting the right note, while 10th place for handling is proof that the MiTo is an entertainer. The downside is a lowly 77th for ride quality and 89th for practicality. And considering it's only been with us for three years, we would have expected better than 60th for reliability.