Best cars: 80 to 71
Our countdown continues with good news for MINI, as the MkI climbs 14 places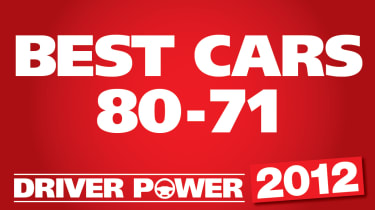 80. MINI MkI
Overall rating: 82.33%Years of manufacture: 2001-2007Previous results: 2007/81 2008/73 2009/86 2010/86 2011/94
The MINI is one of the automotive success stories of the 21st century – but it's certainly not perfect. Bosses will be relieved to see the MkI hatch clawing its way back up the chart after it came 94th in 2011, yet 80th place is still no cause for celebration. Poor build quality, questionable reliability, a rock-hard ride and a total lack of practicality are all common complaints. If there's one thing that compensates, it's how the MINI corners; it lives up to the classic Mini's fun, taking a silver medal for handling.
79. Saab 9-3 MkII
Overall rating: 82.34%Years of manufacture: 2002-2012Previous results: 2007/67 2008/62 2009/93 2010/73 2011/77
When Saab went to the wall, an automotive household name disappeared. The legacy is the number of models still on the UK's roads – but it seems the 9-3 won't especially be missed. Its platform dates back over a decade, and your Driver Power ratings reveal its failings. While owners gave it high scores for performance, the car was marked down for practicality. Drivers weren't impressed with the hefty running costs or build quality, either. At least owners liked its comfort, though.
78. Ford Focus MkII
Overall rating: 82.46%Years of manufacture: 2005-2011Previous results: 2007/19 2008/25 2009/43 2010/51 2011/52
This is one of the biggest shocks of Driver Power 2012, and the reason for the MkII Focus' fall from its established mid-table position to a lowly 78th will be a mystery to Ford. But the scores don't lie: the car's ratings are sub-standard across the board. The only thing that's saved the car from further embarrassment is its legendary sharp handling. The good news is that the all-new Focus has made its Driver Power debut this year – and you'll have to look much further up the chart to find it.
77. Mercedes A-Class MkII
Overall rating: 82.50%Years of manufacture: 2004-presentPrevious results: 2007/NR 2008/NR 2009/15 2010/31 2011/44
Is this another victim of the technology category? The Mercedes A-Class hasn't fared well in the new section, with today's drivers expecting far more technical innovation than they found in this car. When you add handling that leaves an awful lot to be desired, performance that many find sluggish and steep running costs, you've got the recipe for a Driver Power disappointment. The A-Class has tumbled a worrying 33 places down the chart, and the new model clearly can't come soon enough.
76. Peugeot 207
Overall rating: 82.69%Years of manufacture: 2006-presentPrevious results: 2007/NR 2008/55 2009/67 2010/81 2011/83
The Peugeot 207 is moving in the right direction, and has put some welcome space between itself and the bottom of the Driver Power chart. Last year, we pointed out that thrifty running costs saved the supermini from an embarrassing fate, and the 207's bills haven't got any bigger in 2012. Drivers would still like better performance and practicality, while reliability and build quality have caused concern for some. Let's hope the forthcoming new 208 will address the issues raised here.
75. Toyota Corolla Verso MkIII
Overall rating: 83.20%Years of manufacture: 2004-2009Previous results: The Verso MkII hasn't appeared in previous surveys
Even though it's not a new model, the Toyota Corolla Verso appears for the first time in Driver Power this year. To be included, a car must be reported on by enough people and have sufficient scores to make it into the top 100 – but Toyota may have preferred no result at all to 75th overall. It's impressive for a second-hand model to feature in the top half of the reliability and build quality charts, plus practicality is as strong as you'd expect from a compact MPV. Yet high running costs blot the Verso's copybook.
74. Volkswagen Polo MkV
Overall rating: 83.24%Years of manufacture: 2009-presentPrevious results: The Polo MkV hasn't featured in previous surveys
While we can forgive the old-shape Polo's 90th place finish as it's no longer in production, VW's all-new supermini has made a disappointing Driver Power debut. For a car marketed as a cut above the rest, 74th place is a slap in the face. The main culprit is under the bonnet – a lack of cutting-edge engines has led to a poor 94th place for performance. While the new Polo is cheap to run, a lack of practicality, advanced technology and cabin comfort have all led to drivers giving it the thumbs down.
73. Toyota Aygo MkI
Overall rating: 83.29%Years of manufacture: 2005-presentPrevious results: The Aygo hasn't featured in previous surveys
One thing the Toyota Aygo does well is save owners money. It costs very little to buy, insure, fuel, tax and maintain, and achieved first place in the important running costs category of our survey. But that's not to say the little city car is perfect. As it's so small, the Toyota struggles in the practicality and comfort stakes. Performance is also predictably lacklustre, although decent ratings for reliability and build quality show you don't have to spend a fortune to get dependable transport.
72. Audi A3 MkII
Overall rating: 83.41%Years of manufacture: 2003-presentPrevious results: 2007/38 2008/23 2009/44 2010/33 2011/38
Plummeting like a stone down the chart, the Audi A3 has suffered a similar fate to the BMW 1 Series. The premium hatch hasn't dropped quite as far as its rival, but a slump of 34 positions in one year is cause for concern. Again, our new technology category has been bad news for the A3. Are too many of Audi's most advanced features saved for the options list? You're equally unimpressed with how much your A3s cost to run, plus the rock-hard ride provided by the stiff suspension.
71. Volkswagen Passat MkV
Overall rating: 83.47%Years of manufacture: 2000-2005Previous results: 2007/62 2008/67 2009/94 2010/76 2011/59
The Volkswagen Passat is one of the most trusted family cars ever, and is just as popular used as it is new. The MkV saw the car hit the top of its game, with a spacious and upmarket interior winning plenty of praise at the start of the last decade. Time is beginning to catch up with this Passat now, though, as its 71st place reveals. Build quality and reliability issues are now emerging, but it doesn't look as if they are resulting in big bills – 30th place for running costs is impressive.