Aston Martin Vanquish, Die Another Day (2002)
BOND FACT: The car chase on the ice was shot in Norway and Iceland.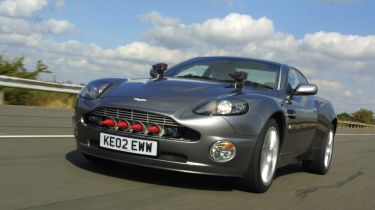 After a brief flirtation with BMWs in his previous films, Pierce Brosnan's Bond took advantage of a multi-million-dollar product placement deal with Ford, which owned Aston Martin at the time, to get behind the wheel of a Vanquish.
Isn't it funny how Q's cars always have the right gadgets for the job? In Die Another Day, the Aston Vanquish is fitted with spiked tyres, which allow Bond to make his escape up the walls of Zao's ice cave.
The car was packed with cutting-edge technology, and 007 was given a guided tour of it by Q's replacement, R (played by John Cleese). As well as the usual rockets and machine guns, the Vanquish had a cloaking device. Special cameras on either side of the car projected an image on to a 'skin' that made it virtually invisible. All of this technology came into its own when Bond confronted baddie Zao (played by Rick Yune) on a frozen lake in Iceland.
Zao's Jaguar XKR convertible, also supplied by Ford, was loaded with weaponry, and the ensuing chase has gone down as one of the most dramatic in the Bond series. At one point, 007 flips his rolled Vanquish back on to its wheels using the ejector seat – a gadget added as a homage to the DB5 – to evade Zao's missiles.
• Aston Martin DB5• Lotus Esprit• Sunbeam Alpine• Aston Martin DBS• Ford Mustang Mach 1• BMW Z8• Citroen 2CV• What the villains drove