Porsche 911 GT2 RS - best supercars
The Porsche 911 GT2 RS carries a massive premium over the GT3, but few buyers will care with such extraordinary performance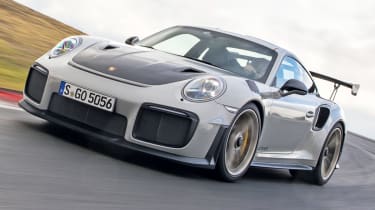 It's not every day that a new Porsche 911 GT2 RS hits the road, but 2017 saw just such an occasion as the German marque launched its 690bhp monster.
Powered by a rear-mounted 3.8-litre flat-six turbocharged engine, the GT2 RS will hit 0-62mph in 2.8 seconds en route to a top speed of 211mph when equipped with the Weissach pack.
In this state, the GT2 RS weighs just 1,441kg - 29kg less than the standard car - although you'll need to lighten your wallet as well to the tune of a further £21,000, on top of a list price of £207,000.
Superb damping means that the ride is brilliant, and it provides a stable platform that allows you the driver to exploit the huge performance provided by the engine. No wonder it held the lap record at the Nurburgring for a while.
Top 10 best supercars 2019
Porsche 911 GT2 RS