Best company cars £50,000 and above
Here are the best company cars for over £50,000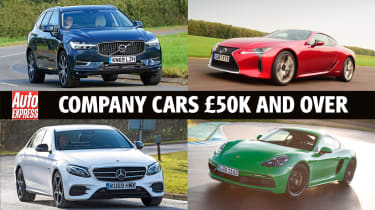 Porsche 718 Cayman 4.0 GTS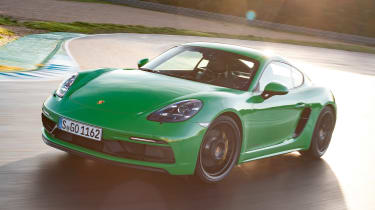 Price:

£64,123

Engine/power:

4.0-litre 6cyl/395bhp

CO2/BiK band:

247g/km/37%

0-62mph/top speed:

4.5 secs/182mph

Monthly BiK Bill

High rate:

£767

Monthly BiK Bill

Low rate:

£384
For some cars, no amount of hybrid trickery will improve the emissions to such a degree that company-car buyers do a double-take. So why not go for broke? The Porsche 718 Cayman GTS 4.0 sits in the highest BiK category, yet it's still something of a steal. Its 4.0-litre flat six is similar to the Cayman GT4's, which costs over £11,000 more.
The GTS isn't quite as serious a machine as the GT4, with less grippy tyres, less downforce and a less hardcore suspension set-up. But that only serves to make the GTS's performance more accessible, and a better road car than its track-focused sibling as a result.
It's hugely rewarding to drive, then, but the interior is a lovely place to spend time as well. Now that this is the only non-motorsport Cayman to feature a naturally aspirated flat-six – a return to form for the model – it gives you most of what the larger, pricier 911 does at a fraction of the cost.
Lexus LC 500h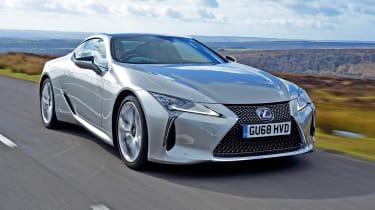 Price:

£78,810

Engine/power:

3.5-litre V6 hybrid/354bhp

CO2/BiK band:

184g/km/37%

0-62mph/top speed:

4.7 secs/155mph

Monthly BiK Bill

High rate:

£961

Monthly BiK Bill

Low rate:

£480
There are two versions of the Lexus LC 500; one has a 5.0-litre V8, the other is a 354bhp hybrid that draws its still- substantial power from a 3.5-litre V6 and an electric motor.
Admittedly 0-62mph in 4.7 seconds isn't quite supercar territory, but it's still quick, while the hybrid system means efficiency is strong; and when you're not pushing the engine to the max, the LC 500h is refined and comfortable. Besides, part of its appeal will be stopping to admire the car's jaw-dropping looks. This is a stunningly styled car that won't cost the Earth to run – financially or environmentally.
However, this isn't a plug-in hybrid, and its electrification isn't deemed effective enough by the latest CO2 tax tables to be spared the top-whack 37% BiK rating. But it will still cost less to fuel than rivals such as the Mercedes SL.
Land Rover Discovery Sd6 SE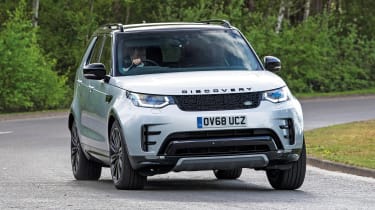 Price:

£57,720

Engine/power:

3.0-litre V6/302bhp

CO2/BiK band:

235g/km/37%

0-62mph/top speed:

7.5 secs/130mph

Monthly BiK Bill

High rate:

£684

Monthly BiK Bill

Low rate:

£342
While there is plenty of noise being made about the all-new Land Rover Defender, it's easy to forget that the long-standing Discovery remains a vastly capable SUV, with four-wheel drive and Land Rover's clever off-road electronics. However, it's the Disco's on-road comfort, ability and sheer versatility that make it a great company car.
Land Rover's Sd4 diesel engine can sometimes struggle for performance, especially when the car is fully loaded with seven people and luggage, which is why we'd opt for the Sd6 instead. The V6 diesel produces 302bhp and 700Nm of torque, and it's a unit that feels muscular and effortless. Even the Sd4 falls into the top 37 per cent BiK band, so it's worth going for this engine instead.
SE trim adds a few more trinkets, such as a 360-degree parking aid, auto high beam assist, two-zone climate control, and heated, electrically adjustable front seats on top of Land Rover's 10-inch infotainment set-up with nav and smartphone connectivity, plus lots of safety kit for a family SUV.
Volvo XC60 T8 Recharge Inscription Expression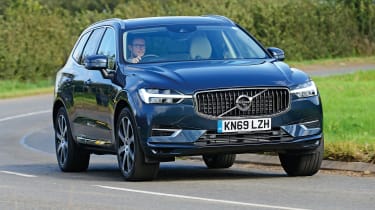 Price:

£50,570

Engine/power:

2.0-litre 4cyl hybrid/335bhp

CO2/BiK band:

54g/km/13%

0-62mph/top speed:

5.9 secs/112mph

Monthly BiK Bill

High rate:

£218

Monthly BiK Bill

Low rate:

£106
Every new Volvo now has a variant with some form of electrification, and using the plug-in hybrid technology on the XC60 as an example, it's not hard to see why.
An electric motor works in tandem with a 2.0-litre petrol engine to produce a grand total of 335bhp. That means the 0-62mph sprint is completed in a surprisingly rapid 5.9 seconds, and four-wheel drive ensures you'll always have traction.
The 11.6kWh battery gives an official range of up to 33 miles, but you can expect less in the real world. More importantly, it leads to an exceedingly low BiK rating that looks laughable given the performance, so this premium SUV costs as much as a family hatch in company car tax.
Inscription offers all the kit you could ask for, with a nine-inch infotainment system, lots of safety kit, climate and cruise control, a digital dash, heated seats, an upgraded stereo and sportier styling touches.
Mercedes E 300 de AMG Line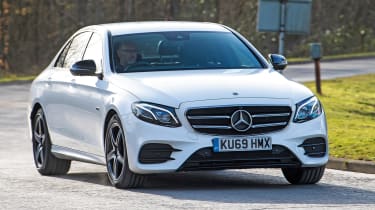 Price:

£50,280

Engine/power:

2.0-litre 4cyl diesel-electric/302bhp

CO2/BiK band:

36g/km/10%

0-62mph/top speed:

5.9 secs/155mph

Monthly BiK Bill

High rate:

£167

Monthly BiK Bill

Low rate:

£84
You'd think that there'd be more diesel plug-in hybrids on sale, but Mercedes is one of the few brands that has thought to combine the best fuel for long-distance driving with the best power for short-distance commuting. The E-Class PHEV therefore majors on efficiency, giving drivers nearly 32 miles of zero-emission range on paper.
The E-Class takes to electrification like a duck to water, with its impressive refinement going hand in hand with very quiet electric-only running. When the engine does kick into life, you'll barely register it. Put your foot down and there's still plenty of performance there.
With rock-bottom CO2 emissions of 36g/km driving down BiK bills, you can afford to push the boat out with the trim level. AMG Line adds indulgences like sportier exterior design tweaks, so the E-Class looks the part. Inside, meanwhile, quality is great and the twin 12.3-inch infotainment screens look great and work brilliantly.
BMW 530e M Sport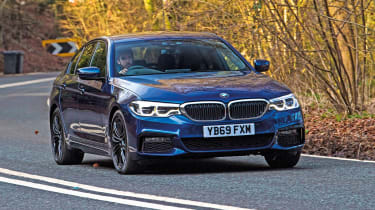 Price:

£50,120

Engine/power:

2.0-litre 4cyl petrol-electric/249bhp

CO2/BiK band:

38g/km/10%

0-62mph/top speed:

6.1 secs/146mph

Monthly BiK Bill

High rate:

£167

Monthly BiK Bill

Low rate:

£83
The BMW 5 Series PHEV is another premium vehicle that – thanks to its low CO2 emissions – looks desperately tempting as a company car. Its 12kWh battery gives up to 35 miles of range – enough for many drivers' daily commute – and on an average domestic electricity tariff it costs five pence per mile in electric-only mode.
When the engine kicks in, the electric assistance makes for impressive performance, and the car's fine ride is matched with terrific balance through corners.
The interior is suitably luxurious, and so many parts are borrowed from the 7 Series you could easily mistake it for its bigger brother. The fit and finish are second to none, while the iDrive infotainment is great to use. There's plenty of kerb appeal, too, with a reserved but attractive design. You can't say that about many BMWs these days.
Best company cars by price bracket