Top 10 best cars for engine and gearbox
Driver Power asked UK new car buyers what they thought of their cars' engines and gearboxes, here are the top 10 highest rated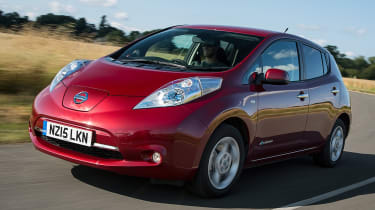 Winner: Nissan LeafIncorporated subcategories: Acceleration, quietness of engine, smoothness of gearbox
For the second year running, the Leaf takes the win in the engine and gearbox category, and it's an important victory not just for the Nissan, but for battery-powered cars in general. Electric drivetrains are becoming the top choice for drivers wanting a refined ride.
Leaf owners are impressed with the car's quietnesss, rating the engine best for refinement and its single-speed gearbox the best for smoothness. They're not as satisfied with acceleration as drivers of more traditional rivals; the Alfa Romeo Giulia (second overall in this category) steals the crown here.
The Alfa also impresses with its smooth gearbox, although engine refinement lets it down a little bit. Hybrids did well this year, too, with the Toyota Prius, plus the Lexus IS, RX and NX all highly rated. VW's Golf rounded out the top 10 with its smooth and usable diesel and petrol range.
Your view
"I like the confidence the car has when accelerating in difficult situations, like merging on to a motorway"
Top 10 best cars for Engine and Gearbox