Top 10 best cars for 'engine and gearbox'
Driver Power asked UK new car buyers what they thought of their cars' engines and gearboxes, here are the top 10 highest rated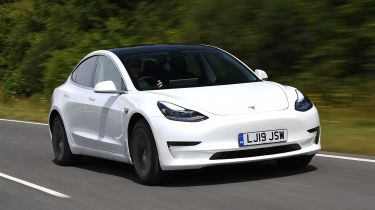 Covering: Acceleration, quietness of engine, smoothness of gearbox
Winner: Tesla Model 3
Score: 94.66%
Once again, an electric car has topped the table in the engine and gearbox category. The Renault Zoe won in 2020, and the Tesla Model 3 – a car that's new to the survey – leads the field this year.
The American EV's acceleration was a highlight. Owners of Performance models said they love being able to complete the 0-60mph sprint in just over three seconds, while drivers of less performance-focused Model 3s said the acceleration was more than sufficient in their cars as well.
Instant torque wasn't the only inherent EV feature that made the Model 3 excel, however. The lack of gearchanges makes the driving experience incredibly smooth, you say, and contributes to refinement.
Some owners also enthused about the futuristic noise the model's motors make, indicating you don't need a petrol engine for a car to sound good under acceleration.
It's perhaps a sign of things to come that a number of the top 10 cars in this class are either outright EVs (for example, Nissan Leaf) or can be had as one (for example, Hyundai Kona, Peugeot 2008).
Your view
"I have always valued quiet cars, and the Model 3 is excellent in this regard; I love the lack of engine noise. The single-speed transmission means no gearchanges, so it's totally smooth too."
Engine and gearbox top 10
Model

Class

Overall Position

Overall Score

Category Score

Tesla Model 3

Compact Executive Car

18

89.43%

94.66%

Hyundai Kona

Small SUV

1

92.35%

94.27%

Toyota RAV4

Mid-Size SUV

11

90.30%

92.31%

Vauxhall Grandland X

Mid-Size SUV

7

90.85%

92.14%

Peuget 2008

Small SUV

12

90.23%

91.82%

Honda CR-V

Mid-Size SUV

25

88.49%

91.49%

Ford Puma

Small SUV

14

89.95%

91.11%

Toyota Yaris

Supermini

21

89.32%

91.03%

Toyota C-HR

Mid-Size SUV

4

91.07%

90.87%

Nissan Leaf

Compact Family Car

40

86.45%

90.79%
Click here to tell us about your car in the Driver Power survey...