The top ten best cars for ride and handling
Driver Power asked UK new car buyers about their cars' ride and handling, and these are the top ten highest rated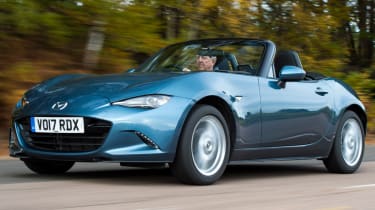 Winner: Mazda MX-5Incorporated subcategories: Responsivness of steering, braking responsiveness/effectiveness, ride quality smoothness, road handling, rriving pleasure
Not only does the Mazda MX-5 win ride and handling honours, it picks up the highest category score in the entire survey. Owners rate the roadster the most enjoyable car to drive, showing drivers don't need heaps of horsepower to have fun. The MX-5 also tops the charts for braking and handling.
The Alfa Romeo Giulia, meanwhile, delivers on the promise of its looks with the most responsive steering in the survey, as well as the smoothest ride. As was the case last year, SUVs feature high on the ride and handling list.
The Peugeot 3008, Mazda CX-5, Lexus NX and Toyota C-HR do a lot to show that models in this market can be engaging to drive. Toyota's Verso also ranks a surprise eighth in the category, helping to dispel the myth that MPVs are boring to drive. The Nissan Micra, VW Golf and Mazda 3 complete the top 10.
Your view
"Brings a smile to my face every time I drive it. The quality of the handling and the revvy engine make it a delight"
Top 10 best cars for ride and handling