Best family cars for Motability
With five seats and decent boot space, a family car is still an attractive proposition for Motability users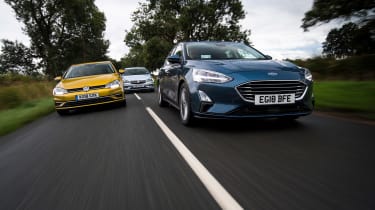 While superminis have grown, there are times when a proper five-seat family car is what you need. The rise of the SUV and crossover has drawn some buyers away from the class, but you can still get a spacious and practical family car in a compact five-door body and Motability customers will find plenty of choice available under the scheme.
A lower ride height and less weight usually mean running costs are better than you'll get in a similar crossover or SUV, while comfort and handling will be better than the family hatchback's high-riding counterparts, too. These cars are great for longer distance driving - some even feature adaptive cruise control to ease some of the strain, and there is plenty of useful tech on board to help with urban driving, too, such as parking sensors and advanced tech including autonomous city braking.
• Best hot hatchbacks to buy now
Our picks for the best hatchbacks on Motability offer good space and low running costs, while the initial advance payments start from less than £200, and you won't need to pay much more for a well-specced model, either.
We pick the best family hatchbacks available for nil advanced payment on Motability below...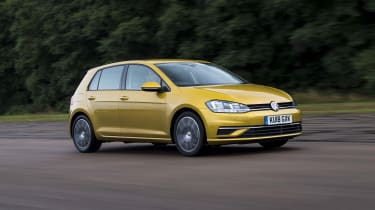 Volkswagen Golf
Updates to the VW Golf in 2017 brought new tech and an ever-so-subtle facelift, but the basic formula of a well-built five-seater with family friendly features remained intact. As a result it's still our favourite compact hatchback, and is a top choice on the Motability scheme.
There's space in the rear for three, and Isofix mounts for two child seats, while the deep boot will swallow plenty of kit, too. The back seats also fold 60:40. The cheapest advance payment is £149 for the 1.5 TSI SE, and while this model offers basic kit when compared to other rivals, the engine is a good performer, with cylinder deactivation boosting fuel economy.
And if you need more space than the five-door Golf offers, there's always the practical Golf Estate, which comes in a similar range of specs and trims for a little bit more.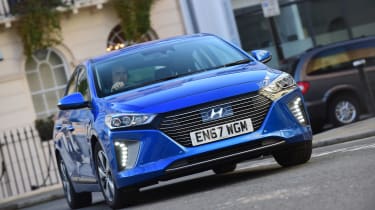 Hyundai Ioniq
Hybrids are going to become a lot more common in the future, and while the Hyundai Ioniq isn't one of the first to arrive, but it's a great start for the Korean maker. The Ioniq comes in three flavours: pure electric, plug-in hybrid and self-contained hybrid, and you can get the last of these through Motability with zero advance payment to put down.
This model has an easier hybrid system to maintain because you don't need to plug it in to top the batteries up - this happens while you're driving. And with claimed fuel economy of 78.5mpg, it's as economical as a diesel but without the particle emissions to deal with.
And as the Ioniq has been designed as a hybrid from the outset, it's pretty practical. The petrol-electric drive system doesn't encroach on boot or interior space, and while the body looks swoopy, there's pretty good space inside for five.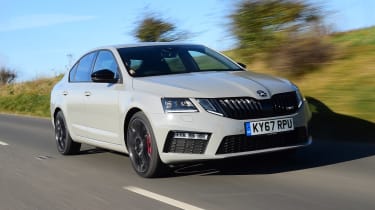 Skoda Octavia
For maximum space in the family hatchback class, the Skoda Octavia takes some beating. Even though it's based on the same platform as the VW Golf, the extended rear end creates a vast 590-litre boot that will easily swallow a wheelchair, possibly even two, and passenger space in the back isn't compromised by this excellent carrying capacity.
Fold the seats and there's 1,580 litres of space, and if that's not enough, the Octavia Estate is even bigger still, with 610 litres available in five-seat mode.
• Best family hatchbacks to buy now
There's a broad line-up of petrol and diesel engines ranging from around 100bhp to over 250bhp, but we'd recommend the 1.0 TSI 115PS three-cylinder turbo petrol. It might sound like a small engine for such a big car, but you won't feel short-changed by its performance, and the engine has plenty of power to help the Octavia keep pace with traffic.
Have you ever owned one of our best family cars for Motability? Give us your review in the comments section below...