Apple CarKey launched in new BMWs: drivers can use their iPhone as a key
BMW will be the first carmaker to allow drivers to unlock their cars using just their iPhone with new Apple CarKey technology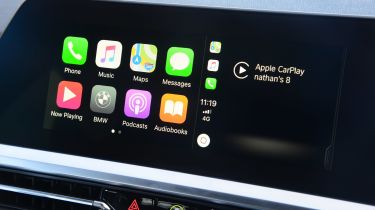 BMW is set to become the first carmaker to enable customers to unlock and start their cars using just their iPhone or Apple Watch.
Announced at Apple's Worldwide Developer Conference, a new feature that BMW is calling Digital Key and is also known as Apple CarKey will see drivers use their device to unlock their car. Once inside, drivers can place their device in the smartphone tray and press the car's start button before driving away.
The Digital Key can be set up via the BMW iPhone app and access to a car can be shared with up to five other drivers. This latter feature includes an option to restrict the level of access for young drivers, limiting the available top speed, horsepower and stereo volume.
The system will work on a number of BMW models - including the 1 Series, 2 Series, 3 Series, 4 Series, 5 Series, 6 Series, 8 Series, X5, X6, X7, X5M, X6M and Z4 - built after 1 July 2020. It will be compatible with the iPhone XR, iPhone XS and Apple Watch Series 5, as well as all newer iPhone and Apple Watch models.
Alongside the new CarKey technology, Apple has also announced a new feature for electric models where an iPhone or the Apple CarPlay software can be used to plot a trip via Apple Maps that automatically takes into account electric car range and the location of EV chargers along the route. This feature will launch in the upcoming BMW i4 in 2021.
BMW was the first car manufacturer to integrate iPod compatibility into its cars and also the first to enable wireless Apple CarPlay.
Last year, Thatcham Research started issuing "poor" ratings in its security tests to models that featured vulnerable keyless entry systems. Manufacturers have now developed ways of preventing relay attacks being used to steal keyless cars, one of which is fitting keyless fobs with motion sensors.
Do you think Apple CarKey is a good idea? Let us know what you think in the comments below...