Used BMW 2 Series (Mk1, 2014-2021) review
A compact rear-wheel-drive coupe from BMW has obvious appeal. Does the BMW 2 Series Coupe live up to it?
Verdict
Whether your focus is on performance or economy there's a BMW 2 Series for you, from the frugal 218d to the supercar-baiting M235i and M240i. Whichever variation on the theme you buy, you'll get a car that's good to drive, beautifully built and sharply styled. While no 2 Series is an ideal family car in terms of practicality, both the Coupé and Convertible editions are a lot more usable than you might think, because BMW didn't try to turn the 2 Series into a five-seater. If you really need some extra space, the 4 Series Coupe and Convertible might be better suited. But if you're after a compact, sporty car that puts the emphasis on style and driving pleasure, the 2 Series is likely to tick all of those boxes and more.
Which one should I buy?
Best BMW 2 Series for fuel economy: 218d SE
Best BMW 2 Series for equipment: 218i M Sport
Best BMW 2 Series for performance: M240i
There aren't any bad choices – all the engines are strong and frugal – but we'd go for an auto rather than a manual because the transmission is so good. Buy a 220d xDrive and you'll have to have an auto.
Entry-level SE is arguably the best trim because it focuses on comfort rather than sportiness. However, it still has 17-inch alloys, climate control, DAB radio, a 6.5-inch colour display, heated door mirrors, rear parking sensors and automatic headlights.
The Sport still has only 17-inch wheels but adds switchable driver modes, sportier trim inside and out, and ambient cabin lighting. M Sport spec gets 18-inch wheels, black headlining on the Coupe, a bodykit, sport suspension and xenon headlights. 
What are the alternatives?
The 2 Series has very few direct rivals. In Convertible form there is the Audi A3, as well as VW's Golf, Beetle and Eos.
While the A3 is a credible rival, the Beetle and Eos are aimed at different markets, and the Golf sits in between. Whereas the BMW has a 2+2 configuration, all of the other convertibles on the market are either bigger cars or merely two-seaters in the first place.
As a coupe, the 2 Series also has few rivals. The closest are the Audi A3 saloon and Mercedes CLA, whereas the Audi TT and Porsche Cayman are hatchbacks. The latter of these two is more costly but worth stretching to, because it's sublime to drive. The VW Scirocco is a practical hatch that's good value, very usable and agile, if not quite as sharp as the BMW.
BMW 2 Series Convertible vs Audi A3 Cabriolet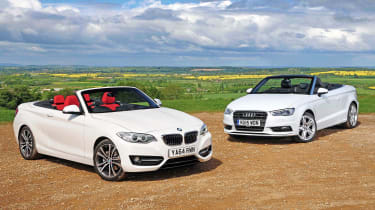 We crowned the Audi A3 Cabriolet the Best Convertible at our 2014 New Car Awards, so this was a tough challenge for the then-new BMW 2 Series Convertible. Although we liked the BMW's firepower and bigger boot, the 2 Series Convertible didn't offer enough to match the broad appeal of the Audi. Read the full test...
BMW 2 Series vs coupe rivals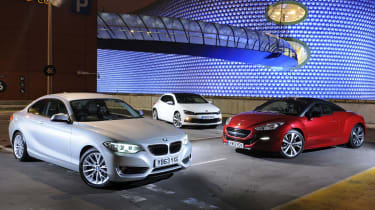 There were no such problems for the BMW 2 Series Coupe when it faced the Peugeot RCZ and Volkswagen Scirocco. Its sharp handling, great cabin and strong refinement combined to see off the challenge of its rivals, with the dated Scirocco left trailing behind in third place. Read the full test...