BMW M2 - best sports cars
Chunky rear-drive coupe has an excess of power to keep you amused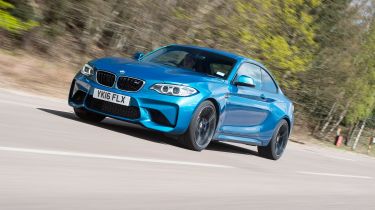 The 2 Series based M car from BMW is one of the most thrilling to drive. It's not the fastest, of course, but it delivers its performance in a fashion that's totally accessible.
The BMW M2 shares the 3.0 straight six with its M235i sister car, but the motor is significantly upgraded with internal components that include the pistons and crankshaft from the BMW M4, and it's good for 365bhp and 500Nm of torque, which are big numbers in car that's as compact as this.
0-62mph comes up in 4.5 seconds, which is only 0.2 seconds down on the M4, yet the M2 at £44k saves you £13k on the price of its bigger brother.
The M2's chassis is equally delightful as the engine, with firm but acceptable ride, precise direct steering and great balance that make it relatively easy to balance the car's attitude on the throttle on track days.
When you add in the M2's undoubted practicality with adult-friendly rear seats and a generous 390-litre boot, the case for ownership gets even stronger.
Best sports cars 2018
1. McLaren 570S
2. Mazda MX-5
4. BMW M2
10. Nissan GT-R