BMW 7 Series vs rivals
Is the new BMW 7 Series good enough to beat luxury car rivals from Jaguar and Mercedes?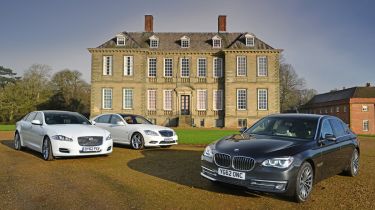 BMW is no stranger to success. Its 1 Series, 3 Series and 5 Series have all tasted road test victory, while its M cars are high-performance legends. Yet the range-topping 7 Series limo has never been such a big hit for the brand.
Despite its cutting-edge tech and sharp dynamics, the big BMW has failed to capture luxury car buyers' imagination. In an effort to reverse the 7 Series' fortunes, BMW's given it a mid-life refresh with tweaked looks, updated mechanicals and greater refinement. We test the 730d in spacious long-wheelbase form.
The Jaguar XJ has also been refreshed, but thankfully retains its sleek looks and attractive cabin. However, before either newcomer can celebrate, they must face the formidable Mercedes S-Class. It's nearly seven years old, but this hugely desirable machine still sets the class standard. So, is it time for a change at the top? Read on to find out.
Verdict
So after years of striving, has the BMW finally made it to the top of the luxury car class? There's no doubt that the latest changes are worthwhile, as the 7 Series is more comfortable and refined than ever before. It also boasts one of the best diesel engines in the business, while build quality is second to none and no other luxury car is as cost-effective to run. As a result, it finishes just ahead of the Jaguar XJ here.
We love the big cat's head-turning looks, cosseting cabin and agile handling. Unfortunately, the firm ride and tight rear headroom are at odds with the car's limousine aspirations, plus it lacks some of the desirable, hi-tech details that mark out the very best offerings in this first-class sector.
And what about the S-Class? Well, by the narrowest of margins it just manages to hold off the BMW to take the win in our test. It may not be quite as dynamically accomplished as the 7 Series, but the Mercedes is still the standard bearer in this sector when it comes to quality, comfort and desirability.