'SUVs are securing the future of sports cars'
Profits made from SUVs and crossovers are allowing brands to keep making sports cars, writes Richard Ingram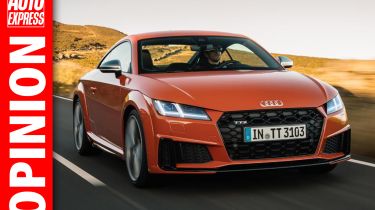 The rise of SUVs has been well documented in recent years. Almost every manufacturer now has some kind of faux-4x4 in their range, while some – like Audi, BMW and Mercedes – have as many as five, six or even seven to their name.
But some buyers still resent the idea of a boxy, raised hatchback with higher running costs and compromised road handling – not to mention that few will fit in a garage or public parking space.
• Best sports cars on sale in 2018
The SUV's proliferation is benefiting the wider car industry, though, as Audi product marketing chief Jens Meier suggested when I caught up with him on the launch of the new TT S Coupé.
Meier told me that as people buy more and more crossovers and SUVs, the revenue they bring allows brands to continue building and developing more exciting sports cars, coupés and roadsters. So models like the TT, RS 5 and R8 are, in effect, by-products of the SUVs' success.
And even though sales of cars like the TT are declining, they still play an important part in Audi's product mix. "The TT is part of our image push; it captures a younger audience," said Meier.
• Best crossovers and small SUVs
Look further afield and it's clear that cars like the Porsche Cayman and even the iconic 911 have benefited from the success (and profits) of the firm's Macan and Cayenne SUVs. Lamborghini will be hoping for similar triumphs with the Urus, while a jacked-up Ferrari is due soon, too.
The trend for platform sharing also helps the TT's business case. By basing the Coupé on the Golf chassis – as well as SUVs like the VW T-Roc and new Audi Q3 – the VW Group is able to absorb costs and build exciting cars for enthusiasts like us. So we may actually owe big, bold and brash SUVs a debt of gratitude.
Read: full details of the new Audi Q3…