'An alliance between Jaguar Land Rover and Hyundai-Kia would get my vote'
Mike Rutherford thinks the VW-Ford alliance will be selling to around one third of UK buyers, leaving rival groups and firms unhappy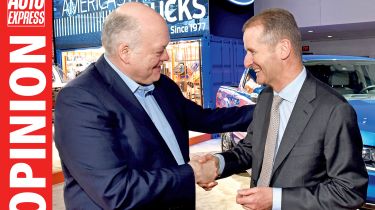 With eight brands already in the family, the Volkswagen Group has as many marques as it needs. Actually, I'd go further and argue it has too many. The German giant might do well to allow a couple to fly the nest. Why? Because they're often – not always – competing directly with each other. And it's you, the retail customer, who ultimately picks up the tab for these costly VW Group rivalries.
This is perfectly illustrated in the mid-size hatch sector, where the Audi A3 goes head to head with the equally fine VW Golf, the brilliant SEAT Leon and the clever Skoda Octavia. As someone who's driven all four cars over many thousands of miles, I can attest that there's little between them in real-world conditions. A right-minded person who's not a badge snob could happily live with any of the above.
• Volkswagen and Ford confirm new alliance
It's the same overlapping story in the supermini class, with the A1, Polo, Ibiza and Fabia at each others' throats. What's the point? They're pretty much the same cars with different bodies and badges. Economies of scale on production lines are outweighed by each brand having its own costly HQ and dealer network. That's why none of the above cars (not even the Skoda) is inexpensive. These attempts to steal sales from each other – paid for by you, remember – don't come cheap.
So I hoped and assumed incoming VW Group boss Herbert Diess would water down or even begin to break up the group, which is both monumental, with almost 700,000 employees, and also poorer than it used to be, thanks to the tens of billions blown in Dieselgate fines and costs.
Instead, Diess stated, on 15 January, that "Volkswagen AG and Ford Motor Company launch global alliance". And to underline the fact he's referring to a formal alliance, not a mere occasional tie-up, he deliberately mentioned that symbolic word 'alliance' three times in his first three sentences. This is not, at this stage at least, a Renault-Nissan-type alliance. Instead, 'VolksFord' insists it will initially deliver only pick-ups and vans from 2022, and explore potential collaboration on EVs, with or without drivers.
But here's the kicker: "Volkswagen and Ford also said they were open to considering additional vehicle programmes in the future," according to VW. This leaves the door open for the VW Group to potentially have a say in the design, and a hand in the build, of the Ford Focus EV, which will be a direct competitor to expected A3, Golf, Leon and Octavia EVs. Similarly, there will surely be a Fiesta EV – up against A1, Polo, Ibiza and Fabia EVs. All this could result in Diess and his VW Group having responsibility, in full or part, for a massive proportion of the biggest-selling family hatches and superminis in showrooms.
Volkswagen is the number-one group in Britain for new car sales, with a market share of more than 20 per cent. Ford is the biggest-selling single brand, with around 11 per cent. 'VolksFord' would therefore be selling to around one third of UK new-car buyers. With rival automotive groups and individual firms left unhappy, maybe it would be time for another alliance. Between Jaguar Land Rover and Hyundai-Kia, perhaps? That would get my vote.
Do you agree with Mike? Is the Volkswagen and Ford alliance bad news for UK buyers? Let us know your thoughts below...