Why is your car insurance premium so high?
As car insurance costs rise by 10 per cent, the Association of British Insurers reveals what drivers pay for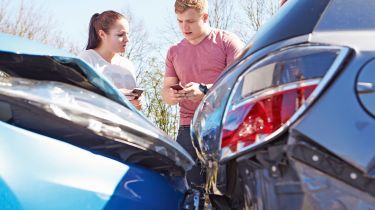 A new report from the Association of British Insurers (ABI) has highlighted just what motorists are paying for, with ever-increasing policy costs.
Over the past year, annual motor premiums have increased by 10 per cent to an average of £434, as insurers have been forced to pay out nearly £8billion in claims.
• Best car insurance companies 2016
As the graphic (below) shows, bodily injuries make up more than a third of money paid out, despite accounting for just nine per cent of claims. The average settlement in 2016 hit £10,995 – up four per cent since 12 months ago. The figures come just a week after the Government announced that plans to change the laws to end the right to cash compensation for minor whiplash injuries were no longer on the agenda.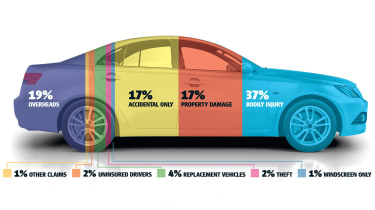 The ABI also revealed in the report that increasingly complicated vehicle technology means the average repair bill has risen by more than 25 per cent in the past three years, to £1,665 in 2016.
However, despite these rising costs, the second biggest factor in premium price is insurers' overheads, rather than payouts for uninsured drivers, theft or courtesy cars. James Dalton, ABI's director of general insurance policy, defended this and said drivers benefit from a "very competitive" market.
He added: "Every motorist wants competitively priced insurance that meets their needs. Insurers are facing the perfect storm of rising costs from personal injury claims, repair bills and Insurance Premium Tax.
• Cheap car insurance for young drivers: top tips
"This report highlights what insurers are doing to help keep the costs of motor insurance down, and what more needs to be done to ensure honest motorists get the best possible motor insurance deal." 
Industry steps to cut premiums
1. Reform personal injury laws
Whiplash compensation and claims management companies still drive up premiums, but planned reform has recently been shelved. The industry wants ministers to refocus on it.
2. Tackle fraud
Fraud worth £800million was detected by insurers in 2015. The industry wants to do more and is implementing recommendations made in a 2016 report. 
• UK's cheapest car insurance uncovered
3. Young driver safety
Insurers want the Government to publish a consultation on the introduction of a graduated driving licence, which could drop young driver premiums by 20 per cent.
4. Stop Insurance Premium Tax hikes
Two successive increases in IPT mean it now adds 10 per cent to  annual rates. The industry wants the Government to avoid further rises. 
5. Incentivise AEB
The Government should encourage uptake of Autonomous Emergency Braking, and consider making it mandatory for all new vehicles.
Is the cost of your car insurance rising? Let us know in the comments section below...