Mercedes GL500 v Volvo XC90 v Land Rover Discovery
Everything about the new GL-Class is larger than life. But does the Mercedes out-muscle Volvo and Land Rover rivals?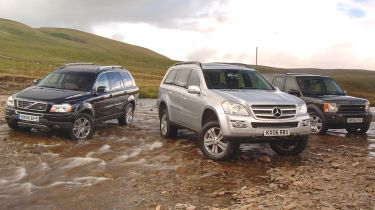 Full-size off-roaders have had a tough time of late. They certainly look at home in the beautiful Welsh countryside of our main picture, but in towns they have received some negative attention. Debates about their fuel economy and size continue, yet this segment of the market is still popular with buyers. However, the undisputed kings of SUV ownership aren't us Brits, but US buyers – there are 29 million of them on American roads.
And the latest premium model to hit the market over there has now arrived on our shores, too. The new Merc­edes GL-Class aims to follow the success of the smaller M-Class. Rather than offer only one premium off-roader, the German firm has decided to sell two. The cars share many mechanicals, but give customers a choice of size and interior space. Both are built in Alabama, yet the GL boasts seven seats. However, the big Merc isn't the class's only new arrival; the Volvo XC90 has proved a global hit since its 2003 launch, and has now been updated. What's more, the firm has bowed to demand from US buyers and fitted its SUV with a 4.4-litre petrol V8.
But can either dislodge our current class favourite? With its famed off-road ability, the Land Rover Discovery should test the Merc's talents in the rough, while the seven-seater layout is sure to score on practicality. Unfortunately, as we were unable to source a V8 Discovery for this test, we've opted for the more popular TDV6 diesel.
So read on to see which SUV has the best blend of space, practicality, on and off-road behaviour and running costs.
Verdict
The Mercedes GL500 is an impressive feat of engineering. It blends genuine off-road ability with fine on-road dynamics and performance that belies its size. Interior quality is a step above rivals' and it's huge inside, but its vast dimensions makes it hard to drive in some situations, and it's very expensive.
Land Rover's Discovery is as capable as the GL off-road, and although its handling and performance aren't as impressive, it's refined, versatile, robust and more suited to family life. Whether in diesel or V8 trim, it's considerably cheaper, too, and remains our favourite. Although updated with an improved drivetrain, the XC90 narrowly fails to match its rivals. It falls short dynamic­ally, but still has the cleverest seating layout and loads of useful features.