Fiat 500 group test
Fiat's new 500 is here, but can it live up to the hype? We test it against challengers from MINI, Suzuki, Toyota and Ford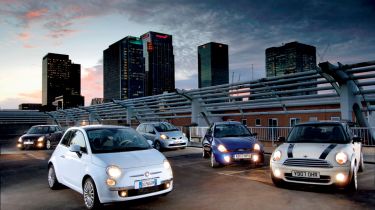 Welcome to the biggest group test of the year. In a world and UK exclusive, we've managed to get hold of the first Fiat 500 to hit these shores.
And the revitalised Italian firm's baby is not getting an easy ride – we spent five days behind the wheel conducting a full road test in locations as diverse as central London, a Leicestershire test track and the B-roads of East Anglia, covering more than 1,000 miles in the process.
What we want to find out is if the 500 is as good as it's cracked up to be when removed from the hype of its international launch. So, to help us test the most exciting car of the year to its limits, we've assembled a suitably tough reception committee.
The first rival needs no introduction. Fiat appears to have used BMW's MINI as a template for the 500. Both are modern interpretations of a classic original, transcend class boundaries, have a vast range of personalisation and major on substance as well as style. If Fiat can repeat the British-built hatch's success, it will ensure a bright future for the Turin-based brand. BMW should be worried.
Of course, given its almost unique positioning, the 500 has a diverse range of rivals. It also claims to be great to drive, so we've brought in the Suzuki Swift Sport and Ford Sportka to see if it can match them in this area. Plus, in the spirit of the original, it promises to be a demon around crowded urban centres – just like the Toyota Aygo.
The new 500 doesn't go on sale here until next January, but we know you want to get the lowdown on it as much as we do. Read on to find out how it fares in this world first test.
Verdict
Let's get one thing straight, the 500 is a fantastic car. It's not revolutionary, but it signifies a new era for Fiat. We have to reserve final judgement until we test a right-hand-drive car, but on this evidence, the MINI still has a slight edge.
The 500 comprehensively outpoints its other rivals, though. It's far more desirable than the Toyota Aygo, and although not as sporting as the Suzuki Swift and Ford Sportka, its attraction lies in other areas – namely its visual appeal. The 500's quality and road manners don't let it down, but unlike the MINI, they don't enhance the package. None of that should prevent the Fiat being a huge success when it goes on sale – and deservedly so.