Subaru Impreza twin test
Subaru's new hatchback Impreza has already divided opinion. But is the first hot version, the WRX, a match for the Honda Civic Type R?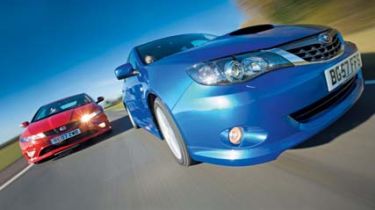 It's the car that reinvented Subaru. Helped by its rally exploits, the Impreza transformed the firm from a farmyard 4x4 manufacturer to a brand with an incredibly loyal following among performance car fans.
Employing Subaru's trademark boxer engine and all-wheel drive, the WRX first appeared in 1992, and through its various incarnations has been available as a coupé, saloon and estate. However, the latest version is a real departure. Bosses are keen to see the standard Impreza rival mainstream models such as the Ford Focus and Honda Civic – so that means the new WRX is now a hatchback for the first time.
As a result, buyers need to get used to the idea of the Impreza being labelled a hot hatch. OK, so its four-wheel-drive system isn't standard fare in the class, but with 227bhp it's level pegging with most opponents.
And there's another Japanese hot hatch which is held in equally high esteem. Ever since the first Integra Type R was launched in 1995, Hondas wearing that badge have been known for delivering sizzling front-wheel-drive dynamics – on a par with the 4WD reverence given to the Impreza.
And the latest version is arguably the greatest of all: the Civic Type R. Race bred, rev-hungry and normally aspirated, it's poles apart from the Impreza on paper – but will the two be equally matched in reality? Find out as we put these performance legends head-to-head on British roads.
Verdict
Even though the Impreza WRX is now a hatchback, owners of the previous model will undoubtedly feel at home. The trouble is, that's not necessarily a good thing – we don't think the latest model moves the game on enough.
True, the distinctive boxer engine note is still a big draw, and the four-wheel-drive traction and accessible performance make it relaxing to drive. But where's the progress over the old car?
While the Subaru has a better ride and more grip, it's let down by poor economy and high emissions, and is more expensive to buy, own and run than its opponent here. The styling is questionable, the interior is drab and it can't match the Civic for space or quality. The Impreza WRX simply doesn't come across as being terribly modern or desirable.
More importantly, the Honda handles better. It feels lighter and more agile in the corners, has sharper and more communicative steering, plus superior brakes. Add in the fact that it has a slicker gearbox and keener throttle response, and it's the Type R which is the more enjoyable car to drive – and that makes it the winner in this test.