Mercedes SL vs Jaguar XKR
Mercedes has given its SL a facelift. As well as a new nose, there's a raft of technical updates under the skin. But is that enough for it to wrestle the title of best luxury roadster back from the Jaguar XKR?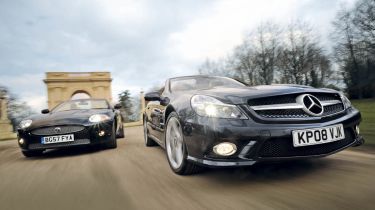 Funny how time flies. While the fifth-generation Mercedes SL was showing the first signs of ageing, would you have guessed it had been with us since 2001?
The fact it still looks reasonably fresh must explain why the firm hasn't tampered with the design formula too much in the car's first major makeover. Instead, the majority of the work has gone on under the skin. There are new engines, the AMG version debuts Merc's first multi-clutch transmission, and the suspension and steering have been retuned. It also gains some impressive hi-tech kit. The previous model was a big success in the UK, which explains why Mercedes is spending so much effort promoting the newcomer. But will it all be enough to make the SL the champion of the upmarket roadster class?
Here we find out, as the Mercedes meets the Jaguar XKR Convertible. This is a tough test for the German drop-top – not least because the last SL was defeated by the XKR when the latter was launched in 2006 (Issue 927). With a supercharged V8, good looks and Jaguar's stability assured by Tata's takeover, the Brit is in great shape.
On paper, this pair are evenly matched. Both feature V8s delivering around 400bhp, plus fully electric roofs, and only £790 separates them on price. But which is the cabrio to covet most?
Verdict
Both of these roadsters are very expensive – but both are hugely accomplished. Tuneful, potent engines, luxurious spec and a real feelgood factor come as standard. As we say in Back seat driver, we don't think either is the best in the range, but neither the SL500 nor the XKR would leave you feeling short-changed.
The depth of the Mercedes' engineering beggars belief. The roof mechanism is wonderful, while the new Airscarf is evidence of the German firm's focus on excellence. However, claims that this is a new-generation model ring hollow. The platform is the same, the V8 is carried over and although the drive is slightly sharper, it can't match the Jaguar's honed dynamics. It feels fresh right now, but we can't see how it will last another six years without a more significant overhaul.
All of which means that the XKR remains our favourite drop-top in this exclusive sector. It's a shame the British company wasn't able to develop a folding hard-top for its flagship coupé, but otherwise the XKR remains a brilliantly capable and enjoyable car. It's effortlessly cosseting, super smooth, looks stunning and is hugely capable.