Renault Laguna GT vs Toyota Verso T180
Both the new Renault Laguna GT Sport Tourer and Toyota Verso T180 aim to provide practical family transport but which is the the better buy?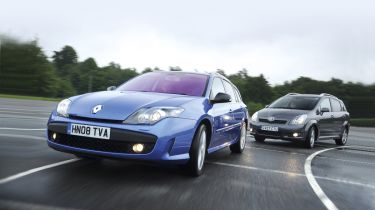 Has the Renault Laguna finally turned a corner? Since its launch last year, the family car has received a cool reception and struggled to keep up in a sector where every new model raises the bar. Most recently, the Laguna finished last in our five-car Honda Accord test.
The two areas letting the Renault down are its handling and styling – and those are the weaknesses that should be addressed by the new range-topping GT model. As well as a striking bodykit, it gets an ActiveDrive chassis with advanced four-wheel steering promising improved handling and safety. We try it here in Sport Tourer guise, with a potent diesel engine. But the Renault faces some stiff competition.
Toyota's flexible Verso T180 MPV takes a wildly different approach to providing entertaining but practical family transport, yet it's the ideal opponent for the Laguna. Look beyond their different body styles, and the similarities are startling. They both have 177bhp diesel engines and produce 400Nm of torque. They're also separated by only £315 on price, and a mere 2kg on the scales.
However, the Toyota has the advantage in terms of versatility thanks to a third row of occasional chairs – but will it be taking a back seat in this test, where practicality must come hand-in-hand with a sporty driving experience?
Verdict
If you want driving fun in a mid-priced family car, you'd better be ready to compromise. Blending performance and practicality isn't easy, but both these models have something to recommend them.
The Renault's clever chassis gives it a handling advantage, yet the Toyota has the flexibility of seven seats – that's enough to make it a default winner for some buyers. Unfortunately, neither provides the level of driver involvement and fun that we hoped for, but there is still a clear champ.
The Verso T180 offers more practicality and superior economy, but it doesn't feel as special as the Laguna GT to sit in, look at or drive. In short, it struggles to cast off the shackles of its MPV roots.
In contrast, the Renault is a fine all-rounder. The Sport Tourer flagship doesn't have a pair of occasional seats in the boot, but with its spacious cabin, practical boot and well judged ride comfort, it fits the bill as a rapid and refined family express. The new four-wheel-steer ActiveDrive system is effective, and while the Laguna lacks a fun factor behind the wheel, the GT's visual enhancements and excellent engine mean it secures victory.