Mitsubishi Lancer Sportback vs SEAT Leon
For the first time ever, Mitsubishi is offering its Lancer as a five-door. Does the new Sportback make sense? We find out as it tackles SEAT's latest hi-tech Leon.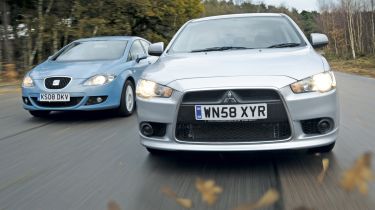 If anyone should be able to build a sporty family hatchback for the masses, it's the chassis boffins at Mitsubishi. The Japanese manufacturer is famed for its all-wheel-drive racer for the road, the Lancer Evolution.
But it has never produced a five-door compact family model for the man in the street – until now! While the all-new Lancer Sportback shares the aggressive nose of its high-octane cousin, it does without the extreme performance, hefty running costs and impractical four-door body.
To see if it can survive in one of the most competitive segments of the market, we pitch the entry-level 1.8-litre GS2 against a sporty European model with a healthy dose of Latin flair. At £13,701, the Mitsubishi has price on its side – but the SEAT Leon still provides stiff competition. And to give it even more appeal, it's now available with VW's excellent 1.4-litre TSI turbo engine.
Predictably, the Lancer enjoys a power advantage, but performance is only part of the story. For once, the Mitsubishi is the only car in an Auto Express road test without a turbo boost. The question is whether that's a help or hindrance.
Verdict
With the rally heritage attached to the Lancer name and the promise of the fresh five-door body, we had high hopes for the Sportback. Mitsubishi claims its newcomer has what it takes to compete with the latest crop of talented family cars – but it's mistaken.
The combination of awkward exterior styling, a bland interior and lacklustre performance holds the Lancer back. After a day of back-to-back driving with the SEAT, the Mitsubishi felt more like a car nearing the end of its production run, rather than one that had just rolled off the drawing board.
In contrast, the Leon looks great, has an appealing cabin and one of the most capable petrol engines around. It also comes with more kit than the Lancer for a few hundred pounds extra. If you want a sporty family hatch at an affordable price, there can be only one winner.