Citroen C3 vs rivals
Citroen is focusing on innovation and style with its new C3. Can it match the best in class? We find out as it tackles five rivals in five of the key areas for supermini buyers..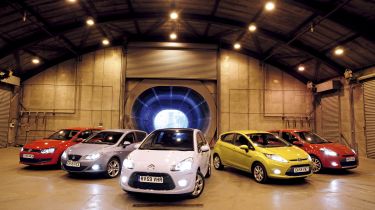 If there's one car company that isn't restricted by a single-minded approach to design, it's Citroen. The French brand is famed for thinking outside the box with its quirky and unusual machines. Its history is littered with groundbreaking cars, from the humble 2CV to the stunning DS.
Now, Citroen majors on value rather than innovation. But the C4 Picasso shows creative thinking is still alive and well within the brand. And it will need every drop of this expertise if its new C3 supermini is to make the grade.
The small hatchback sector is the most unforgiving environment, as models such as the class-leading Ford Fiesta and excellent Renault Clio promise to shine a spotlight on the flaws in any new arrival. To see if the Citroen has what it takes, we've arranged a daunting welcoming committee.
Lining up alongside the Ford and Renault to greet the Citroen is another new supermini prospect. The SEAT Ibiza is a familiar face, but the Spanish brand has only just introduced a diesel model. Its latest 1.6-litre common-rail engine is shared with the final car in our group – the new VW Polo. Road test debuts don't get any more intimidating than this, so does the C3 rise to the occasion?
Or will it wilt under the pressure?
The contenders:
Citroen C3 * Price: £15,200 * Engine: 1.6-litre 4cyl, 88bhp * 0-60mph: 12.1 seconds * AE economy: 43.2mpg * Claimed CO2: 110g/km * Why: New Citroen supermini is long overdue. We want to find out if it elevates brand to the top of the pecking order.
Renault Clio * Price: £14,285 * Engine: 1.5-litre 4cyl, 85bhp * 0-60mph: 12.4 seconds * AE economy: 52.9mpg * Claimed CO2: 115g/km * Why: The long-serving Clio should not be underestimated. It's spacious, affordable and has a strong dCi diesel engine.
Volkswagen Polo * Price: £13,205 * Engine: 1.6-litre 4cyl, 74bhp * 0-60mph: 14.3 seconds * AE economy: 44.2mpg * Claimed CO2: 112g/km * Why: New Polo comes with a prestige badge and solid reputation to protect. But it lacks muscle in this company.
SEAT Ibiza * Price: £12,985 * Engine: 1.6-litre 4cyl, 104bhp * 0-60mph: 10.6 seconds * AE economy: 43.8mpg * Claimed CO2: 112g/km * Why: Firm is finally offering VW Group's latest common-rail diesels in its distinctive baby. How does it measure up?
Ford Fiesta * Price: £15,195 * Engine: 1.6-litre 4cyl, 88bhp * 0-60mph: 12.0 seconds * AE economy: 49.6mpg * Claimed CO2: 110g/km * Why: While our reigning class champion isn't the cheapest of offerings, it's our reigning car of the year.
Verdict
The Ford Fiesta has stamped its authority on the supermini class before – and it has done so again. While the blue oval's small hatchback doesn't come cheap, in our eyes it's the class of the field.
Separating the remaining cars wasn't so easy – this is one of the hardest verdicts we've ever had to call. There's little to choose between the Renault, SEAT, VW and Citroen, so splitting them will come down to what you need from your supermini.
For us, the Clio squeezes home in second place thanks to its combination of performance, comfort and space. Close behind is the SEAT. The Ibiza is cracking value and very distinctive, although the Sport's firm suspension won't appeal to everyone.
The Polo was outgunned for performance but finishes fourth, due to its value and desirability. And that leaves the C3 in last place. Against such talented opposition, this is no disaster – as Citroen is firmly back among the supermini elite.
Ranking 1ST: Ford Fiesta Even a short drive is enough to establish the Fiesta as the dynamic leader in this test. It is more fun to drive than the sporty SEAT without sacrificing comfort or space. The latest round of price rises does make it expensive, though.
2nd: Renault Clio You can't teach an old dog new tricks, but in the case of the Clio, you don't need to. The mature Clio is a brilliant all-rounder, mixing punchy diesel performance with impressive economy and a spacious cabin. Only uninspiring looks let it down.
3rd: SEAT ibiza It's hard to ignore the low price of the SEAT Ibiza, especially when you consider how much of that value it should hold on to – it has the second best residuals in our line-up. We were impressed by its lively performance and sharp handling, too.
4th: VW Polo The conservative Polo isn't going to win sales for its style or driver appeal, but it makes real financial sense. Competitive prices and class-leading residuals stand out, while kit is decent – it's the only car here to feature ESP as standard.
5th: Citroen C3 Fifth place is nothing to be ashamed of in this company. The new C3 is roomy and its punchy 1.6-litre HDi engine is refined. The quirky looks are an acquired taste, but if comfort and space are priorities, the Citroen makes sense.