Subaru WRX STi vs. Insignia VXR
Rally bred Subaru super-saloon is back – but can it beat Vauxhall flier?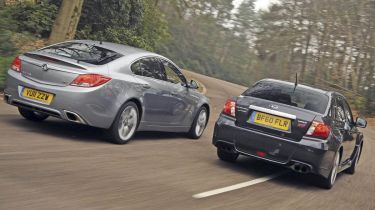 The Subaru super-saloon is back! For many years, the Japanese firm's rally bred four-door Imprezas were a must-have addition to the garage of any driving enthusiast. Ballistic turbocharged pace, a grippy four-wheel-drive chassis and great-value pricing made previous generations of Impreza performance car legends. Sadly, the latest hatchback variant hasn't proven as popular as its illustrious predecessors. And in an effort to attract fans back into the fold, bosses have pulled the wraps off a new saloon version of the WRX STi range-topper.
The Impreza name has been dropped, but it certainly has all the ingredients to succeed, thanks to a 296bhp boxer engine, muscular bodywork with wide wheelarches and the manufacturer's famed 4WD system. Only trouble is, the Subaru is no longer a high-performance bargain, as it weighs in at an eye-watering £32,995.
For this money, buyers can take their pick from a raft of desirable, upmarket machines. In fact, for only a fiver less, you could get behind the wheel of Vauxhall's extremely capable Insignia VXR.
With its sleek looks, turbocharged V6 powerplant, sophisticated 4WD system and classy, generously equipped cabin, the Luton company's latest charger is a formidable package.
So which of our four-wheel-drive sizzlers will get a stronger grip on the top step of the podium.
Verdict
If this test was decided purely on straight-line performance and boisterous character, the Subaru would emerge victorious. But unless you're always in the mood for back-road thrills, and willing to exploit the STi's searing cross-country pace, the narrow powerband and stiff chassis mean the car soon becomes wearing. And while the cabin is comfortable and spacious, it can't match the Vauxhall's design or quality. In the end, the clincher is financial – the WRX STi simply demands too much from its owner's pockets to be a viable proposition here.
For keen drivers who are looking to mix pace and practicality, the Insignia VXR makes much more sense. Not only is it better looking, built and packaged, for 90 per cent of the time it's just as quick. The fact it manages all this without compromising comfort and refinement seals the deal.