Best Renault Megane Coupe deals
Popular, but not immune from discounting by large dealer groups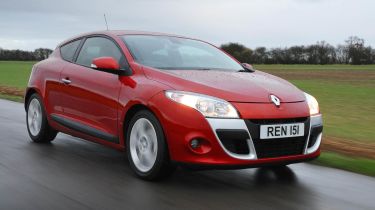 The svelte new coupe version isn't immune from discounting, with Renault slicing money off the 1.6 petrol and dealer groups working harder to get the best discounts on other versions.
Renault deal There's a good deal of practicality in the coupe, and Renault's officially discounted model is practically a good deal! The i-Music is wired for iPod connectivity and comes with a £1,229 discount to drop monthly payments to £259. However the PCP deal sets a limit of 6,000 miles a year.
Car - Megane Coupe i-Music 1.6 110 List price - £16,992 Deal price - £15,793 You save - £1,229 Monthly payment - £259
Marketplace deal The stirring turbocharged two-litre looked pricey at almost £20k until dealer group Perrys lopped £3,500 from it.
Car – Megane Coupe 2.0 TCE Dynamique (180) From – Perrys of Aylesbury List price - £19,535 Deal price - £15,995 You save - £3,540