Jaguar E-Type
Built: 1961-75, number sold: 13,490, cool cat factor: 5/5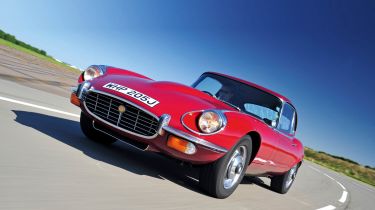 The E-Type is the car that typified the swinging Sixties! Launched at the 1961 Geneva Motor Show, its gorgeous lines were inspired by the D-Type racer. As a result the Series I model is the most beautiful Jaguar road car ever in the eyes of many.
Crucially, it had the performance to match its stunning looks and was a genuine 160mph car. Its pace was sensational for the period and it was also considerably cheaper than any other comparable rival. It handled well, too – the steel monocoque was stiff and the light, sharp steering impressed.
Having only planned to build 250 cars, Jaguar was shocked by the level of demand, as pop stars, racing drivers and even royalty made it the most fashionable car of its era.
The 3.8-litre straight six engine was replaced by a 4.2-litre version in 1964, and in 1966 demand for a more practical version saw the launch of the two-plus-two, alongside the existing two-seater coupé and roadster models.
The Series II arrived in 1968 with higher bumpers and much bigger rear lights. Six-cylinder models went out of production in 1971, and the V12 Series III took over.
The red 2+2 in our photos is a great example of an early V12, and while it's not the most fondly remembered model, there's no denying the E-Type is one of Britain's ever greatest cars.
Details
WHY: Classic cat is considered by many the most striking car ever