Jaguar XJ (XJ40)
Built between: 1986-1994, number sold: 208,000, cool cat rating: 3/5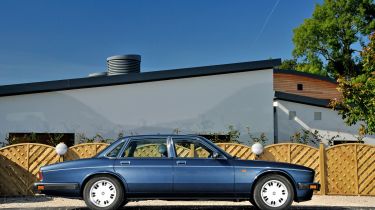 Connceived amid the corporate turmoil and mismanagement of British Leyland ownership, this XJ had a difficult and protracted development. It was known internally as the XJ40; the codename stuck and has been used ever since.
The car was first proposed in the mid-Seventies, but it wasn't until after the 1984 privatisation of Jaguar that a production version appeared. Launched in 1986, it featured 2.9 and 3.6-litre versions of the XJS's straight-six AJ6 engine.
Some purists felt the shape was too boxy, yet the styling was intended to give a more contemporary look. Entry-level models featured round headlamps, while upmarket Sovereigns had big rectangular lights. New Jaguar boss Sir John Egan also instigated a quality drive to make sure the XJ40 didn't suffer the reliability woes which had blighted British Leyland Jaguars. At the time the new saloon won praise for being faster and sharper-handling than its predecessor.
Through its life several versions of the XJ40 were introduced: the 3.6 XJR, tuned by Jaguar's late-Eighties motorsport partner TWR, and the super-smooth 6.0-litre V12 were real highlights.
Stretched-wheelbase variants became the default choice of British politicians and captains of industry. And by the time production stopped in 1994, over 208,000 examples had been sold. Now, the saloon that helped secure the firm's financial survival is an affordable way into classic Jaguar ownership.
Details
WHY: Saloon played a key role in re-establishing the marque.