Jaguar XJ (X300)
Built between: 1994-1997, number sold: 92,038, cool cat rating: 3/5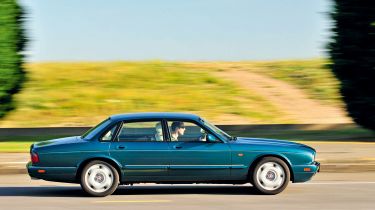 Rejuvenated by Ford ownership, Jaguar launched a fresh XJ in 1994. Codenamed X300, it was the first all-new model to be produced under blue oval stewardship. The styling marked a return to the curved lines, sculpted bonnet and round headlights of earlier XJ models, but beneath the retro-inspired shape there was significantly improved build quality and more up-to-date technology.
As before, Sovereigns were the most luxurious, while long-wheelbase variants followed in 1995. The established AJ6 engines had been reworked, and now dubbed AJ16, but the creamy-smooth V12 was unchanged. The car shown here is the sporty XJR, which had a supercharged 325bhp version of the 3.2-litre motor. Equipped with a five-speed manual gearbox, it sprinted from 0-60mph in 5.5 seconds, while top speed was limited to 155mph. It was distinguished by a mesh grille and large 17-inch wheels: a true Jaguar sports saloon.
In 1997, the XJ had a radical update, with the V12 and AJ16 six-cylinder engines replaced with 3.3 and 4.0-litre V8s. The XJ8 used technology from the XK8 coupé, but increased power signalled an end for the firm's manual gearboxes.
The new models maintained the excellent ride and handling balance that typified this generation of XJ, while the new 370bhp 4.0-litre V8 XJR had the performance to match the best that German manufacturers could offer.
Details
WHY: Cutting-edge technology and retro looks were a hit for new owner Ford.