Jaguar XJ6
Built between: 1968-73, number sold: 98,527, cool cat rating: 5/5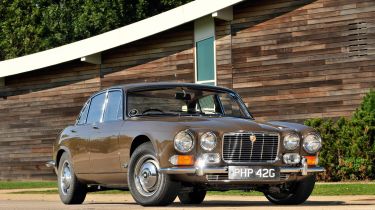 September 1968 is a landmark date in Jaguar history. That's when its confusing saloon car line-up, which included no fewer than four ranges, was given a dramatic overhaul.
The arrival of the new XJ6 (for six-cylinders) effectively saw one basic design underpin its entire effort, and it would be available in both Jaguar and Daimler trim.
Customers had the choice of 2.8 and 4.2-litre engines, and the suspension set new standards for comfort and handling in the saloon sector.
This created huge demand and lengthy waiting lists, which meant Jaguar had a genuine success on its hands. Examples of this legendary saloon simply don't get any better than the one pictured here. It was originally the company car of chairman Sir William Lyons, and its wooden dashboard harks back to a bygone age. A thorough restoration in 1994 means it is still in fantastic condition, and the bank of black toggle switches on the dashboard are a world away from the touchscreen controls of the latest XF, although its electric windows work as smoothly and quietly as those fitted to any modern motor.
A short drive is enough to see where the latest Jaguar saloons take their cues. The smooth 4.2-litre engine, slender gearshifter and thin- rimmed steering wheel deliver a remarkably comfortable and refined driving experience, while its smooth bodywork belies its age.
The Series I XJ was produced until 1973, by which time nearly 100,000 vehicles had been built. And you can see its influence in the generations of Jaguar saloons which followed – making this XJ one of the finest of all.
Details
WHY: Influence of big-selling, much loved saloon remains strong to this day.
For an in-depth buyer's guide on the Jaguar XJ6 from Classic and Performance Car click here...