Jaguar XJ13
Built: 1966, number built: 1, cool cat rating: 4/5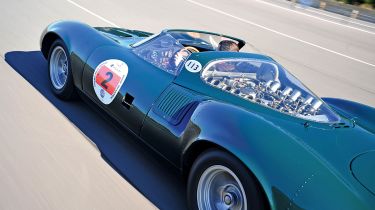 If rarity was the sole criteria for the title of greatest ever Jaguar, picking the winner would be simple. That's because there's only one XJ13 in the world!
The work of aerodynamicist Malcolm Sayer, also responsible for the lines of the stunning C and D-Types, the XJ13 is one of the most beautiful racing cars of all-time. Its blend of jaw-dropping looks and exclusivity has given the 13 an almost mythical status among enthusiasts.
Built as a potential Le Mans contender, its development had to take second place to road car production, and by the time it was complete, its design had been made obsolete by new cars like Ford's GT40. So the XJ13 project was mothballed and it never raced, but that didn't stop people admiring this prototype's huge mid-mounted 502bhp 5.0-litre V12 engine. It helped legendary test driver Norman Dewis lap the MIRA test track in Warwickshire at over 161mph in 1966.
Unfortunately, having been brought out of retirement to lap the same track for filming purposes in 1971, a wheel broke at more than 140mph, causing the XJ13 to crash heavily. Thanks to a painstaking restoration, this mighty machine is still in full working order and is now the pride of the Jaguar Heritage collection in Coventry. Sitting in the confined cabin, the vibrations and roar of the V12 engine have to be experienced to be believed. The lessons learned developing its engine were put to use in Jaguar's famous production V12, which was made from 1971 until 1996. One thing is certain – the XJ13 is undoubtedly the greatest Jaguar that never was!
Details
WHY: One-off v12 monster still has aura to make fans weak at the knees.