Jaguar MkII
Built between: 1959-1967, number sold: 83,976, cool cat rating: 5/5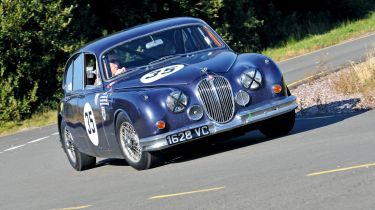 Building on the success of the MkI, the MkII was launched in 1959 and it took Jaguar's compact sports saloon to new heights. The styling was only subtly enhanced, but the interior was a substantial improvement.
Cheaper models had 2.4 or 3.4-litre engines, yet it was the 220bhp 3.8 that captured the headlines. Combining a gentlemanly cabin with great looks and serious performance, it was simply in a class of its own.
No other saloons came close to matching its pace, and with 1959 also seeing the opening of the speed limit-free M1 motorway, owners could cruise at 100mph and reach 125mph. As a £1,500 saloon that only the most exotic sports cars could keep up with, it's easy to understand why the Jaguar became the model of choice for the rich and famous.
It also had huge success on the race track – the car in our pictures was a factory development model built in October 1960, which was sold in 1962 to a private racer who competed in it around Europe. Now lovingly restored, it still takes part in historic motorsport today. With low-geared steering and a dead feel at the straight-ahead, the roadgoing MkIIs took some getting used to. And with a reputation for understeer that quickly snapped into a tail slide in the wet, they took skill to drive fast.
The eight-year run saw constant improvements, but by the end of the Sixties the legendary MkII was outclassed by its rivals. Yet this great Jaguar cemented the firm's reputation for building superb sports saloons – something that lives on today in the XF.
Details
WHY: Great looks and superb performance made sports saloon a hit on both road and track